HOME
UPCOMING EVENTS
ABOUT US
HIGHLIGHTS
*Updated OCT 2015*
E-mail Us




Welcome to the Home Page of the Toronto Canada-China Friendship Association! We are a member of the Federation of Canada- China Friendship Associations. Our aims as recorded in the Federation's constitution are:

- To promote friendship between the people of Canada and China by fostering mutual understanding and appreciation of each other's society, their historical development and their functioning social and economic institutions.
- To promote cultural, educational, scientific, athletic and other exchanges between the Canadian and Chinese people.







Our activities include:
- public meetings: speakers, panel discussions, films
- cultural and social events: banquets, jiaozi (Chinese dumpling) parties
- mentoring and hospitality: English classes, hosting visitors from China
- publication of TCCFA Newsletter
- Gourmet Dinners
- Learning Tours to China

Meet people who share your interest in China and things Chinese!

To receive information about becoming a member, click on our Information Page.

If you wish to print out a TCCFA membership form, click on the link below:



MEMBERSHIP FORM




---



TCCFA NEWS



On Sunday, October 18 Michael Copeland will present a talk (and slideshow) entitled "From WW1 to China to Hollywood: Henry Norman Bethune, Tillson Lever Harrison & AA MacLeod."

Our Annual Fall Banquet took place on Monday, October 5 at the King Dragon Cuisine in Thornhill. We thank all those who joined us as we celebrated China's National Day with good food and better company.

TCCFA members attended the Commemoration of the 70th Anniversary of the End of the Second World War at the Norman Bethune Statue in Gravenhurst. Pictures are at the Highlights page.




TCCFA members attended the 4th Canada-China Cultural Dialogue on Aug 5-6 at the Hilton Toronto. They held a two-hour meeting with representatives from the Chinese Peoples' Association for Friendship with Foreign Countries and also participated in the Dialogue's other events. See Photos at the Highlights page.

We thank Dr. Donia Zhang for a wonderful presentation on Saturday, May 9 and we congratulate all new and returning Board members who were elected at our Annual General Meeting. We are taking our usual summer break but will have many wonderful events for our 2015/16 season!




On Sunday, April 26, we were very pleased to present a talk by David Mulroney,Ambassador of Canada to the People's Republic of China from 2009 to 2012. Thanks to those who attended and also to those whobought a book!




On Sunday, March 15, we presented Sarah Kutulakos, CCBC's Executive Director and Chief Operating Officer, who gave an insightful seiminar on How Canada Needs to Be More Strategic in its Business Relations with China.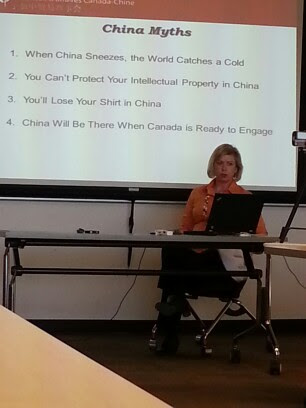 The TCCFA Board of Directors joined many honoured guests, including Toronto Mayor John Tory, in welcoming both the Year of the Sheep and the new Consul-General, Mr. Xue Bing,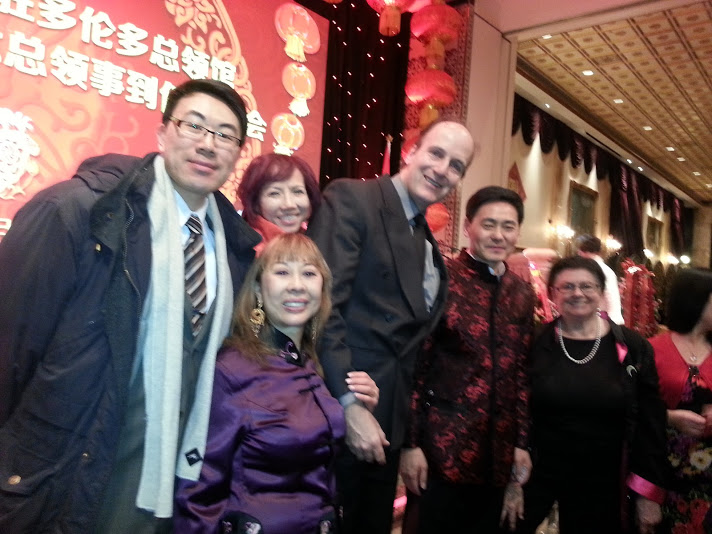 We thank everyone who came to our Jiaozi Party on Saturday, February 7. The event took place at the Downsview United Church and everyone enjoyed preparing and then enjoying the delicious jiaozi dumplings.

The TCCFA was happy to present Dr. Keith Lowe and his presentation on the fascinating connection of Jamaica - China - Panama from 1854 to 2015. This took place on Sunday, January 18 in front of a packed audience.

The TCCFA Board of Directors welcomed a delegation from Hong'an County at the Taste of China restaurant on Saturday, December 13. Pictures are at the Highlights Page.

TCCFA supporter Arlene Chan will be launching her new book, Righting Canada's Wrongs: the Chinese Head Tax and Anti-Chinese Immigration Policies of the Twentieth Century on Wednesday, Nov. 12, 5:30-8 pm, at the Lillian Smith Library, 239 College Street (at Huron Street).

TCCFA Board members attended a film event for Tibetan Culture Week at the TIFF Bell Lightbox on November 4, 2014.

Thanks to all who joined us on Sunday, October 19 at the U. of T. Medical Sciences Building as Dr. John Hagen spoke about his experiences in China and the state and outlook for medicine in the country. You can see photos at the Highlights page.

TCCFA Board Members attended the Consulate's Reception honouring the 65th anniversary of the Founding of the People's Republic of China on Friday September 26. See the Highlights Page for photos.

Thanks to everyone who joined us on Monday, September 22 for our Annual Fall Banquet at the Sky Dragon Restaurant. Members of the Chinese Consulate were our special guests. Check the Highlights Page for photos.

Thank you to everyone who joined us on Sunday, May 4, to listen to Olivia Chow as our our guest speaker. We are thankful especially to Olivia Chow for making time during the long weekend to give her presentation.

We thank everyone who came out to The Forbidden City:Inside the Court of Chinese Emperors at the Royal Ontario Museum on Sunday, April 6. The private tour was very informative!


---
WILLIAM SMALL

Click Here For A Tribute
---
CONTACT US!
Toronto Canada-China Friendship Association
543 Markham Street
Toronto, Ontario
Canada
M6G 2L6





Contact Us