Support freedom
---
Welcome
to
my
homepage.
Come on in, pull up a bale of hay and I'll tell you a little bit about myself, my friends, and my furkids.
---
---
A LITTLE BIT ABOUT MYSELF
Hi! My name is Kim. I'm from Illinois, and I'm an avid animal lover with a special passion for horses. Eight animals own me, lol. A dog, Jaxson, who is a Border Collie/German Shepherd mix, a calico housecat named Fancy, four barn kitties named Mama, Spook, Spaz and Scat and two Paint horse geldings, named Apache and Griz. They are all the loves of my life. I adore each one for their uniqueness and unconditional love and devotion.

**UPDATE** On 8/30/04 My beloved Australian Shepherd, Angel, went to Rainbow Bridge. God now has another ball player. I pray that I will meet her again where she is happy and well. Until then she will remain forever in my heart. I miss you more than you know, Angel!
Meet Apache. He's the sorrel with the white face on the right. Isn't he great?!
Apache after a training session.
Apache and Griz out enjoying the fresh Christmas snow.
These two are the infamous Jaxson and Angel. Aren't they adorable?
Sign My Guestbook
View My Guestbook
---
My Barnyard of Links
Thanks Bev, Bobby, and Shadow!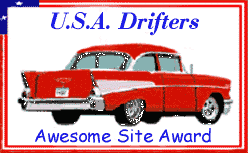 Thanks to everyone at the USA Drifters!
---
| | | | | |
| --- | --- | --- | --- | --- |
| Search for the Album or Artist of Your Choice! | | | | |