New Borri Audio Laboratory brown wax blanks.
Authentic in every detail to an Edison blank of the late 1890's!
Welcome To Borri Audio Laboratories!
Borri audio laboratories: Offering the finest authentic quality brown wax cylinder records for all ranges of Edison phonographs and ediphone dictation recorders. Available both blank and with custom recordings of the highest fidelity available. here we also offer restorations or repairs to help make the dream of a fine investment piece that also celebrates the American legacy of innovation in technology and audio reproduction.
The fine sound of a genuine Borri cylinder record is like a lesson in that history and with our repair and restoration services you can have access to this marvel of innovation created right here in the states by Thomas Edison in West Orange, New Jersey and know that you have a piece that will never depreciate and that tells a story of that time.
Being recordable the chance to put your own voice or music on one of our blanks can provide hours of fun experimenting and playing, or creating a unique sounding recording that will stand out from the crowd and endure for 100 years or more just like so many original recordings from the original period of the machines.
Offering of course to recreate vintage recordings from cylinder records offered in stores when new, you can even have a rare and precious recording from: presidents Roosevelt, or Taft, pope Leo the XIII, Edward M. Favor [The first ever recording artist!] or Florence nightingale, or any of the myriad artists of the day; or any modern song or artist of your choosing.
We offer professional recording sessions in studio so you can leave the details to us and ensure the highest quality with custom made equipment developed here in the Borri Audio Laboratories.
We've taken sound quality to new levels by creating the most low surface noise records ever produced. And made greater audio quality than ever before possible right there at your fingertips. comparison recordings to demonstrate our high level of performance are posted to prove these claims.
It is an exciting time to renew an existing interest in this recording format or to start a new passion that could last a lifetime. also offering educational speeches and custom part fabrication or tracking; Borri Audio Laboratories is the first name in Edison Wax Cylinders and talking machines or dictation machines.
Call today for any inquiries or orders.
Childhood Home in the Quad Cities. Andy Schumm And His Dixie Flat Landers. Recording blanks and machine by Shawn Borri Audio Laboratories.
Navigation by WebRing.
Pablo Helguera-Archive Dead Languages Conservatory. Shawn Borri produced the blanks for this project. The project started in 2004-ongoing, and comprises of over 200 recordings.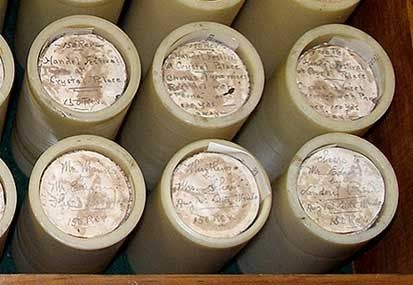 ABOVE- The Oldest Edison wax cylinder records made in 1888 by chemist Jonas Aylsworth, for the perfeced phonograph. BELOW- These are the oldest Edison Phonographs that play and record wax cylinder records, and are at the Thomas Edison Historical Park in West Orange New Jersey. On the mandrel of the oldest Edison phonographs (1887-1888) in the world, are replica blanks made in 2010 by Shawn Borri's hand, here is proof of knowledge of the art of producing phonogram blanks.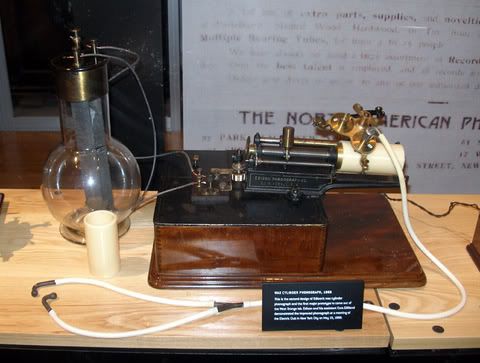 Cick here for information on my latest project that is with Chicago Artist Thomas Negovan. This exciting project. I made the blanks and the cylinder recordings, this special project is being released on a limited 500 copy 45 rpm 10" record, I am so excited about the release!