Watch this video to see how we make the compound used to make our recording blank cylinders. American blanks are made for quality NOT quantity. Our blanks and records are sold as we make them, on a first come first serve basis. Because each blank is a very labor intensive , we are not able to sell more than what we have in the store!
Original Walter Miller/Edison Studio recorder
We utilize glass diaphragms from .007-.0085" thick. The head mounted on a 1901-1902 Edison Triumph.
Our Nashville connection to
Unique recording on such as digital and vintage Presto tube recording lathe.
The North American Phonograph Company is a Self Sufficient LIVE cylinder recording company, and one of the few places that uses original studio equipment. Our 1901-1902 Edison Triumph model A cylinder recorder is equipped with a Trailing type, advance ball, professional recorder, used by the master himself, Mr. Walter Miller!!! (who is that?) He was one of three trusted sound engineers that made Edison masters for Edison Gold Moulded, Amberol, Blue Amberol and Diamond Disc. So our equipment's lineage IS what made Edison Records the state of the art in sound recording in the 1903-1929 golden age of acoustical recording. We do not rely on anyone for recording blanks, we make them in house. They are made by a high quality, laborious process. (See Video) . If you are skeptical, as most people are, You can give us a call, Call (815) 876-6897. It is best to reach us from 4-8pm
CST U.S.A.
Blanks are made in house
Of the finest componets, and painstaking method, each blank takes 3 days to make and 30 days to cure
Childhood Home in the Quad Cities. Andy Schumm And His Dixie Flat Landers. Recording blanks and machine by Shawn Borri Audio Laboratories.
Navigation by WebRing.
Pablo Helguera-Archive Dead Languages Conservatory. Shawn Borri produced the cylinder records for this project. The project started in 2004-ongoing, and comprises of over 400 recordings. Shawn Borri has manufactured over 13,000 wax cylinders since 2000.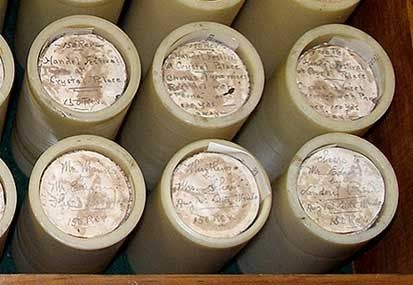 ABOVE- The Oldest Edison wax cylinder records made in 1888 by chemist Jonas Aylsworth, for the perfeced phonograph. BELOW- These are the oldest Edison Phonographs that play and record wax cylinder records, and are at the Thomas Edison Historical Park in West Orange New Jersey. On the mandrel of the oldest Edison phonographs (1887-1888) in the world, are replica blanks made in 2010 by Shawn Borri's hand, here is proof of knowledge of the art of producing phonogram blanks.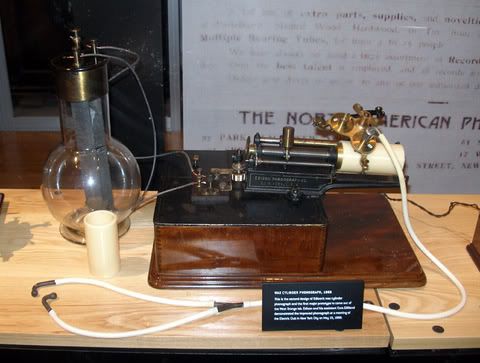 Cick here for information on my latest project that is with Chicago Artist Thomas Negovan. This exciting project. I made the blanks and the cylinder recordings, this special project is being released on a limited 500 copy 45 rpm 10" record, I am so excited about the release!