Our Nashville connection to
Unique recording on such as digital and vintage Presto tube recording lathe.
Our Nashville Connection, for live 78rpm, and Digital recording.
Schedual time at Our studio to Record a cylinder !
It is at present the only known working original Edison Studio recording attachment in the world!
Welcome to The North American Phonograph Company!! We are Makers of fine, authentic cylinder records, and blanks; concentrating on quality instead of quantity. That is why we only sell what we make. All items are hand made, tested and graded, each is priced accordingly. It is not uncommon for our product to go through improvements as at our Research and Development laboratory, new things are discovored all the time, and Mr. Edison's "Hell there Ain't No Rules Around here! We are tryin' to Acomplish Sompin'" applies!
Our Product, Authentic spiral core, brown wax
Made with a new, painstaking, high quality process. Each blank takes several days to make!
The Manufacture of our brown wax from which the cylinders are made!
A Demonstration of our blanks using the only original working Edison studio recording head, perhaps in the world. It was used at the 79 fifth Avenue, New York Edison recording studo, somewhere around 1910. Used to originally record such notables as Billy Murray, Cal Stewart, Collins and Harlan, Sousa's band for Edison Gold Moulded, Blue Amberol and even adapted to make Diamond Disc masters.
Note the high quality shaved surface!
Hand made records and blanks of authentic metallic soap, and new high qulaity process.
Childhood Home in the Quad Cities. Andy Schumm And His Dixie Flat Landers. Recording blanks and machine by Shawn Borri Audio Laboratories.
Navigation by WebRing.
Pablo Helguera-Archive Dead Languages Conservatory. Shawn Borri produced the cylinder records for this project. The project started in 2004-ongoing, and comprises of over 400 recordings. Shawn Borri has manufactured over 13,0000 wax cylinders since 2000.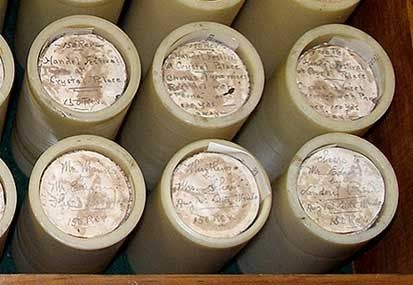 ABOVE- The Oldest Edison wax cylinder records made in 1888 by chemist Jonas Aylsworth, for the perfeced phonograph. BELOW- These are the oldest Edison Phonographs that play and record wax cylinder records, and are at the Thomas Edison Historical Park in West Orange New Jersey. On the mandrel of the oldest Edison phonographs (1887-1888) in the world, are replica blanks made in 2010 by Shawn Borri's hand, here is proof of knowledge of the art of producing phonogram blanks.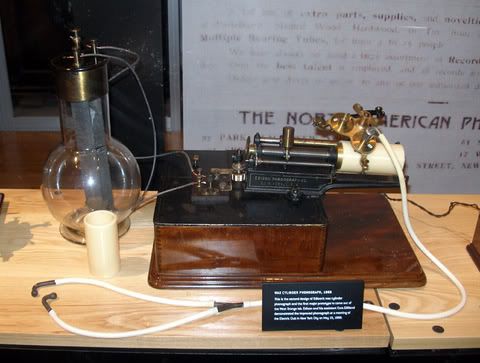 Cick here for information on my latest project that is with Chicago Artist Thomas Negovan. This exciting project. I made the blanks and the cylinder recordings, this special project is being released on a limited 500 copy 45 rpm 10" record, I am so excited about the release!