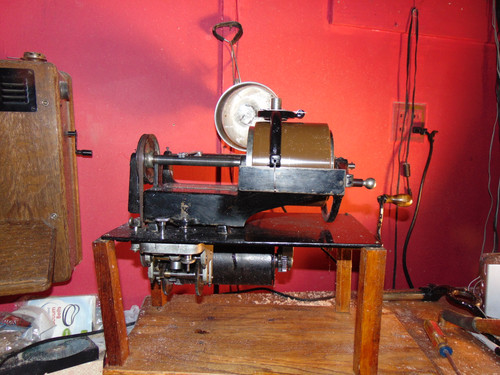 We make new standard size 4" long by 2.170" diameter brown wax recording blanks and recordings,which we sell in the store on this website and EBAY. We are now capable of recording the 5" cylinder records,for the Edison Concert and Graphophone Grand, such as the GG,AG,HG,AB. We sometimes will offer music from the 1898-1906 era for the 5" records, sometimes we will have live artist come in the studio and record a direct master recording. We are also interested in recording you for the Innerspeaker NOSIDE project, this may be on 5" or 2.150" diameter cylinders. We can record either type cylinder with the original studio recording head, with advance ball, or a very fine, home recording head, that is carefully tuned to make clear, bright, recordings, and is very sensitive. 5" cylinders are at this time obtained from overseas, however we hope to be making our own soon.
The North American Phonograph Company was founded July 14, 1888, and owned the patents of Thomas Alva Edison, and The Volta Laboratories American Graphophone Company. It was the first distributor of the wax cylinder Phonograph, and Phonograph-Graphophone. Shawn Borri Revived Edison Records, AKA The North American Phonograph Company in 1997. We record on cylinder records, and make blanks. We are looking to sell live master recordings, If you are interested in recording by the round, let us know. We do not record off of tape, you must record in front of the horn.
This is an original, restored professional recording head. We are one of the only users of actual original early 20th century acoustical professional equipment. This came from one of the major cylinder studios circa 1903-1910. It could be from Edison, Columbia, Albany Indestructible, or U.S. Everlasting cylinder company.
This is an example of the blank cylinders we make, they are made in heated molds, of an aluminum stearate soap formula, known by collectors as "brown wax" . Unlike the commercial process, of the 1890's we use a longer, quality process of pre heated molds, and slow cooling in still air, a premium blank of American know how! Original commercial blanks were force cooled with wet towels, and the outer tube forced off. The compound, molding, shaping, and shaving all done in our facility, nothing is outsourced or made by others! Come and Visit us if you are in the neighborhood.
2020 marks 20 years of re-opening The North American Phonograph Company and making new brown wax cylinder records, and blanks. The total output of new cylinders since 2000 is over a ton of new brown wax.


The North American Phonograph Company In Chicago recording Rob Scallon for his famous Youtube videos. This is the first time that a live metal band performs in front of an acoustical, original, Edison master studio recorder, it has over 600,000 views!
Childhood Home in the Quad Cities. Andy Schumm And His Dixie Flat Landers. Recording blanks and machine by The North American Phonograph Company. This session used an an Edison recording head circa 1898.
The Photos Below are of Pablo Helguera-Archive Dead Languages Conservatory. Shawn Borri produced the cylinder records for this project. The project started in 2004-ongoing, and comprises of over 400 recordings. North American Phonograph Company still uses the Edison Cylinder Record for ethnography and Ethnomusicology. The recordings are located in such museums as The Nelson-Atkins Museum of art, the Museum of Modern Art, and The Guggenheim in New York. Shawn Borri has manufactured over 13,000 wax cylinders since 2000.
We are the acoustical recorders who recorded Thomas Negovan's 10" EP "By Popular Demand" a 45rpm record of 8 original songs, recorded entirely on our wax cylinders, and an 1890's Edison Automatic recorder. It is also the first and only recording of its kind!
Cick here for information on my latest project that is with Chicago Artist Thomas Negovan. This exciting project. I made the blanks and the cylinder recordings, this special project is being released on a limited 500 copy 45 rpm 10" record, I am so excited about the release!