This show was a long time coming. And an expense! My friend E and I had previously flown to Phildelphia on my birthday Oct. 26, then taken the train to Atlantic City only to find out 5 hours before showtime that the show had been cancelled and rescheduled due to Mick's voice problems.

So, we had to fly back to AC once again, and once again it wasn't easy. The weather was a factor and E was stranded in LA and I was stranded in Pittsburgh. We were supposed to get into Philly at 9:45pm and 10:23 pm respectively, but as it turns out, she got in around midnight, I got in around 1:30am...each of us spent 3-5 hours waiting in airports. Then, the problem was, once we finally arrived in Philly, we were too late for the last train, so we had to fork out $150 to take a taxi to Atlantic City. Another expense we didn't need. The next problem, was that because we were staying at a time share/condo type place instead of a regular hotel, there was no check in after a certain hour. We had to make it by 4am...and at 3:45am we arrived! Phew. Tired as hell, but at least we could go right to bed.

We had a great room with an ocean view and a view looking down the boardwalk. We slept until noon, so we caught up on sleep, and then starving, we headed over to Caesar's buffet for lunch. In contrast to the last time we were here, when it was windy, cold and pouring rain, it was a beautiful day, the sun was shining and the temperature reached 63. Perfect for a show day.

Our friends Susan, Isabel & Ed were arriving that afternoon and we met them later in the day for a beer before they headed out to the pre-party at the AC Bar & Grille and we headed to the Blue Martini at Bally's. I ended up winning a whopping $10 on the slot machine I played, combined with my $30 from Vegas, I was ahead by $40. Big gambler eh? After a martini, we headed to the band will call at Boardwalk Hall to pick up our tickets, holding our breath and crossing our fingers for great seats for our last show of the tour. We weren't disappointed. We scored front row on Keith's side, seats 4, 5, 6. Now we were excited!

We headed into Boardwalk Hall, and with our passes we were ushered backstage. It was a long walk to the Rattlesnake, which truly was directly behind the stage this time. We looked at all the road cases in the hallway, and even walked out on the side of the stage to check our seats. Once inside the RS Inn, it was packed. It was the largest area by far, but there seemed to be 3 times the amount of people inside. Luckily Allie & her brother let us sit at their table. We had some wonderful lobster ravioli and a vegetable philo thingy. The beer was Stella Artois.

We made the rounds saying goodbye to the various tour personnel and security guys since this was our last show of the tour. Many people were surprised that we wouldn't be coming to LA or Vancouver, but it was just too hectic with Thanksgiving just around the corner and the money and time spent in re-doing this AC show. We had hugs with Chuck and Rose Lane and later Preston, who gave E & I each a complete set of tour pick-Mick, Keith and Ronnie. Very cool. Bill brought me a setlist and I gave him a set of the photos we had taken in Vegas. He took one of my photos for Keith to sign in the dressing room and brought it back out to me in the RS Inn. Sweet! Getting the photo of me and Keith signed was the icing on the cake to a perfect tour ending.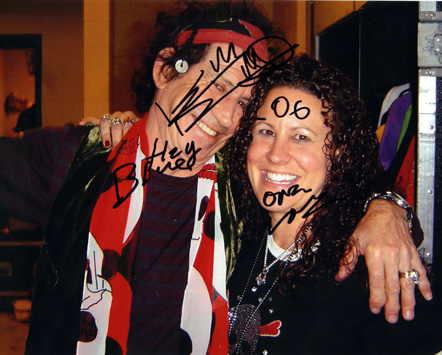 Keith signed this photo for me in Atlantic City
One funny incident in the RS Inn, was when Keith's friend, Roy was sitting at our table and he gestured towards my tattoo and said "Is that real?", to which I replied "the boob or the tattoo?" and he came over and pulled up a chair and said "this calls for a closer look, let me warm up my hands". We had a chat about how Keith was so bummed when he found out the chick on the Sopranos had a fake Stones tongue tattoo on her boob. I assured him mine was real (the boob and the tattoo) and that I'd gotten it in 1994 after the Voodoo Lounge Tour was over.
We headed to our seats via some side door we found in the hallway. The stage was closer than close, these should be our best seats of the tour. Of course, it's always so hard to concentrate when Keith is that close! The setlist was as follows: 1. Jumping Jack Flash 2. It's Only Rock N' Roll 3. Oh No Not You Again 4. She Was Hot 5. Loving Cup 6. Streets Of Love 7. Ain't Too Proud To Beg 8. All Down The Line 9. Tumbling Dice 10. You Got The Silver (KR) 11. Connection (KR) 12. Under My Thumb 13. She's So Cold 14. Start Me Up 15. Honky Tonk Women 16. Sympathy For The Devil 17. Paint It Black 18. Brown Sugar 19. You Canít Always Get What You Want (encore) 20. Satisfaction (encore)
Keith was again on fire here, and what a joy it was to see him playing so close in front of us. He looked fabulous. He wore the scarf I had sent back to his dressing room tied to his right hip. I had a sign that simply said "Thanks Keith" that I held on the rail and at one point it got shown on the big screen. Our whole row got shown on the screen a few times. Mick was wild and sounding in good voice, but onbeknownst to many, Ronnie had hurt his leg and was in quite a bit of pain and therefore stood still for most of the show & even sat down at one point.
Our surprise tonight was Loving Cup (though I had hoped for Shine A Light, Chuck said he couldn't talk Mick into it), and I savored singing the line "see your face dancing in the flame, see your mouth kissing me again, what a beautiful buzz, what a beautiful buzz...". Onto a brilliantly done Streets of Love, Mick has been getting better & better at that one. Next up Ain't Too Proud to Beg, always a crowd pleaser.
Mick was very quiet tonight, not much chat to the audience, not even an apology for the cancelled show. I guess he left that to Keith who said something like "Sorry for the delay, shit happens, not my fault" before he began a stellar version of You Got The Silver. Connection was hot again tonight too.
We decided against going to the B stage, since we had taken our boots off, because our feet were killing us. She's So Cold on the B stage was a novelty tonight.
I loved seeing Keith stroll out playing the opening to Paint It Black and then signaling Charlie to come in on drums with the flick of his wrist. We got 2 encores and a 20 song set tonight, and the crowd did some singing on You Can't Always Get What You Want...and I got misty thinking, that's true, but I sure as hell finally got what I needed (thanks to Bill & Keith). A grungy Satisfaction finished things off as the streamers fell from the heavens and the boys took their final bows.
It was bittersweet, knowing that the 15 months of tour have come to an end for me, but as the crew indicated backstage...see ya in 2007!
We took the boardwalk pushcart back up to our hotel, which gave us a laugh, then took a taxi to the AC Bar & Grille for the after party. we contemplated going to the Borgata, but decided against it. The after party was packed, so after one beer we headed back to the Atlantic Palace Suites after a pit stop at 7-11 for food reinforements (microwave burritos!) and partied with Susan, Ed & Isabel until 4am.
Thank you Rolling Stones for another great tour!
Special thanks to Boosa aka Debi for letting me use her awesome pictures from Boardwalk Hall.
The Atlantic City Photo Album