Key Links: New Player Info | Middletown TT | Fairfield TT|TIPS, TT Terms and History and Video clips
| News Page | Cancellations info | Directions/Maps back to homepage click here:
PLEASE BE PATIENT AS A FEW PHOTOS may take a minute or two to load (at dial-up speed)

tmNEWS

( updated Nov 8th 2008) DID YOU GET AN E-MAIL NOTIFICATION OF NEWS IN Early May 2008 ?
I if not - join or re-join the list by sending me a quick e-mail with your name and town, (and phone numbers if you wish) to:
nettadave@.gmail.com . Don't worry - I don't use my e-mail list often or give it out for others to use.
(remove the space after the '@' and ADD my e-mail address to your contact list to insure my e-mails aren't blocked).
TO SEE US OPEN & WORLD CHAMPIONSHIPS NEWS SCROLL DOWN

New TT Videos:Click to see a segment
Recent Sunday play at Middletown:
Paste this to browser: http://video.google.com/videoplay?docid=-8971886696731988693&pr=goog-sl
Ping pong Scores Popularity -Video - 10/14/07 from NBC's TODAY SHOW
World Junior TT Championship Video - 10/24/07 Promotional spot

Sorry this page isn't being updated as often in late 2008
Problems with previously used website software are making it more difficult
Fall 2008 News is Available at this link:

'Fall/Winter 2008-09 News Blog LINK


New Schedule Info line Number established;

The new number is (203)660-1363.

While we don't expect any schedule changes before
Thanksgiving week 2008, the Thur night play may switch to Tue for that week only - you can call this number to confirm the current schedule
anytime 24/7. It will (only) be changed if/when any schedule change occurs,
particularly if short notice, like a weather emergency causes a cancellation.

If arangements become possible, I may establish a separate number in the 860 area
code for Middletown this fall or winter, but this number will serve both clubs
until further notice. Contact me for by e-mail or at my cell phone
(2O3)668-l945 for other information - be prepared to leave a message
including your complete phone number

Connecticut TT Assoc / Fairhaven Athletics -
2008 Youth Clinic - Amistad Academy - May 2008


3 Tables/ coaching stations D.Strang coaches w/Newgy Kids wait for 'next'
short clip (click above)exhibition highlight point longer clip 7 min demo & game highlights(above)

CT TTA director Dave Strang and Fairhaven Athletics director Peter Noble were joined by Middletown TTC
regulars Mark Mosher and Kacey in conducting an exhibition and clinic for students at New Haven Charter school
Amistad Academy, as a part of it's after school sports Table Tennis program.
Dave and Mark played exhibition matches amd audience challengers followed by coaching at 3 tables,
one using a Newgy Robot.
The 4 hour program ended with doubles matches involving various combinations of the kids and the 4 instructors.
CT.Senior Games Table Tennis events Held May 11th in Middletown
Fairfield TTC Regular Rich Dewitt, won the 'Open' championship event in the May tournament in Maine.
Rich also won the earlier Rhode Island events over fellow Fairfield club -mate Don Feltenberger..

Connecticut Junior scores in another NYC tournament
photos by S.Katz


: David training w/ coach in FF Katz w/ trophies from USATT event

State Junior champ David Katz, moved up the USATT ratings
ladder again with a win in the 25 player U-1650 event at the NY TT Federation's September tournament in Chinatown.
13 year old David got his start and initial coaching a couple years ago at Fairfield TTC and often plays there on Saturdays, and also at home and the Stamford JCC with his father Sheldon,
He won 8 out of 9 matches and expects his 1456 rating to go over 1600, moving him up a few notches
from his current #20 spot on the CT.TTA Fairfield/Middletown rankings (all ages) on our ratings page.
Newgy TT ROBOT -
Practice at home whenever you want with a Newgy robot - Models from $229 to $695 (plus S&H) -
as used in CT. TTA Coaching - Ask Coach Dave for more info or CLICK HERE for my Newgy webshop


Now you can order Newgy Robots, Balls and Accessories online through my Connecticut TTC Newgy Webshop
CLICK HERE for my Newgy webshop - Be sure to click the link for current coupon specials
I can have a reliable and economical Newgy Robot delivered to you in a week or less with your
C.O.D, credit card or cash (money order) payment
To order CLICK HERE for my Newgy webshop or for more information, Ask Dave in Person, or by email,
or cell phone at (2O3) 668-l945 (please leave a message and I'll return your call)
Your purchase through me costs you nothing extra but earns a commission for me,
and free bonus coaching or club visits for you, depending on the model purchased.
'08 World Teams News from ITTF.com: Adoring Fans Rewarded as China Retains Team Title in Guangzhou
By: Ian Marshall, ITTF Publications Editor
<!..................................... -->

<!..................................... -->

Wang Hao tested by Lee Jung Woo but in the end victorious Photo By: Ayoade Ademakinwa

3/2/2008 Evergrande Real Estate World Team Table Tennis Championships

They came in their thousands, the capacity of the Guangzhou Gymnasium being thirteen thousand; as with the Women's Team final, the previous evening there wasn't a spare seat in the house.

The signs were held aloft in Chinese characters "China to Win" and of course the multitudes of adoring fans were rewarded on Sunday 2nd March 2008 as their heroes won the Swaythling Cup for the sixteenth time and endorsed their stature as the superpower of table tennis.



In the men's final at the Evergrande World Team Championships, China beat Korea by three matches to nil to win the prestigious Swaythling Cup for the sixteenth time.

Master
Ma Lin the master of service and receive extolled his art to the full to win the first two games against Ryu Seung Min; the first was won with comfort, the second with a degree more consternation.

Ryu Seung Min led 10-9; Liu Guoliang, the head coach of the Chinese Men's team called "Time Out". The interjection worked; Ma Lin won the next three points.

Response
The Korean responded; his forehand flowing, he won the third game but in the fourth; he made error after error receiving service. Ma Lin made virtually none. The game went quickly to Ma Lin, the Chinese star celebrated, China had the lead.

Uncharacteristic
Next into the arena came Wang Hao and Lee Jung Woo; the Korean caused Wang Hao immense problems; in the first two games Wang Hao struggled to find a rhythm.

He made uncharacteristic errors from the backhand, both when receiving service and in the rallied.

Unfortunate
Lee Jung Woo won the first game and was somewhat unfortunate to lose the second; the last two points both saw attacking strokes from Wang Hao clip the top of the net before bouncing on the Lee Jung Woo side of the table.

Great credit must go to Lee Jung Woo, he was brave, he attacked with his devastating forehand at every opportunity but Wang Hao had more to offer. He directed his attacks into the body of Lee Jung Woo, gradually he gained in self-belief, he succeeded and Chinese hearts beat comfortably.

Overwhelmed
A tough match for Wang Hao but not for Wang Liqin; he overwhelmed Joo Se Hyuk.

Consistently he played forehand topspins towards the backhand of Joo Se Hyuk; the Korean defended for his life but the reigning World champion was just too consistent.

Time and again it was forehand topspin after forehand topspin to the backhand; then a fast attack to the middle of the table and it was point over.

Superb
There was little Joo Se Hyuk could do; in straight games the contest was over. It was gold for China; the title won in 2006 in Bremen was duly retained and retained in style.

It was a superb performance by the magnificent Chinese; they were in a class of their own; the best in the world.

KOREA 0-3 CHINA
Ryu Seung Min v Ma Lin 5-11, 10-12, 11-6, 5-11
Lee Jung Woo v Wang Hao 11-7, 12-14, 5-11, 9-11
Joo Se Hyuk v Wang Liqin 5-11, 2-11, 6-11

Fairfield TTC enjoys B-day surprise
The secret of Club director Dave Strang's July Birthday got out recently, resulting in a semi-surprise Birthday 'party'
as part of the recent Saturday afternoon session in Fairfield.
Before the passing of my mother a few years ago, I usually spent Christmas and the first part of July, in Ohio
and was able to keep the secret that I shared a birthday week with Ringo Starr, the USA and George Bush,
for a couple years thereafter - missing any local Connecticut 'celebration'.
But the secret escaped this year with a pleasant result.
Play was interrupted briefly for cutting of a cake, thoughtfully supplied by Terrance which was enjoyed by, coincidentally,
a near record size (for summer) Saturday group of players.


How can you beat that - a birthday party featuring an amazing banana cake and a long afternoon of table tennis
with dozens of friends, new and old, in an air-conditioned gym !
Thanks everyone for sharing the birthday cake, signing a nice card and supporting
my dream of friendly AND competitive clubs for players of all ages and skill levels even on a sunny July Saturday afternoon.

Middletown TTC Hosts 2007 CT Senior Games
The 2007 Senior Games TT events was again held as a part of our Sunday Night play
in Middletown, on May 20th .
A dozen players, from 60 to over 80 competed in four age groups for Senior Games Gold Silver and bronze medals.
Played on roughly half of 12 tables set up in Middletown Riverview Hospital Gym, many of the Senior players also
practiced with a dozen of our regular club participants when not occupied with Seniors matches.
As we have for over 15 years NETTA/ CT TTA, has hosted the event,
since 2005 in Middletown, in 2004 in Fairfield, and prior to that at various Senior games venues.
Results will be posted by mid-week at the CT Senior Games website. A few photos:


See more photos, and Seniors News & Results linked at :
https://members.tripod.com/netta_ct/SeniorsTTnews.htm
see the CT Senior Games website for results - posted May 30th
http://www.seniorgamesct.org/07sumres.htm
Exhibition & Jrs TT Clinic at New Haven Charter School



Dave Strang and Mark Mosher, of the Connecticut T.T. Association, entertained teachers and about
a hundred kids at New Haven's Amistad academy recently with a table tennis exhibition and mini-clinic,
arranged by After-school program coach and teacher Peter Noble of Community group 'Pequenas Ligas Hispanos'.

The Youth Sports after school program includes a table tennis club as well as volleyball and a
variety of other sports and activities. The table tennis program is a continuation of the local
after school program originally started by Peter and Dave over 11 years ago, recognized in
earlier years by articles in the Yale Newspaper and Connecticut Spanish language newspapers
and by a US Olympic Committee and USATT funded Grass roots development grant.

Dave and Mark played an exhibition match followed by challenge matches with selected teachers
and students during the first hour, and stayed two more hours to work with kids, play doubles matches
and allow kids to play against the Newgy robot on one of three tables provided by Peter's organization.
For more youth TT news and photos see the page linked here

Get a Newgy robot and play ping-pong anytime you want! Check out these great specials:
To order or for more information, Ask Dave in Person or by email

I can have a reliable and economical Newgy Robot delivered to you
in about 4 days, or at a club meeting in a week or less with your
C.O.D, credit card or cash (money order) payment & information in person or by phone or e-mail.
Prices range from about $250 to $720, delivered depending on the model and features.
See my website, e-mail me or ask in person for more information.
Your purchase through me costs you nothing extra but earns a commission for me,
and free bonus coaching or club visits for you, depending on the model purchased.

US TABLE TENNIS PARTICIPATION RISES 16%

SGMA (Sporting Goods Manufacturer's Association) just released new sports/fitness participation data for 2006.

http://www.sgma.com/associations/5119/files/topline07.pdf

Frequent Participants (Play 25+ times/yr) 3,049,000
Regular Participants (13-24 times/yr) 1,545,000
Casual Participants (1-12 times/yr) 10,513,000
Total Participants 15,107,000

The 2006 figures show an increase of 16% over 2005 figures (13,023,000) and an 18.7% increase over 2000 figures (12,726,000.

These increases are among the highest percentage increases of all sports/fitness activities surveyed.
No other sports came close to this level of percentage increase.

Karakasevic Wins 2007 U.S. Open Men's Singles Title


- The annual tournament was held this year in Las Vegas during the July 4th holiday week,
attacking about 800 players, most from North America, but others, especially the elite players, from around the world

Some results as posted on www.butterflyonline.con:
| | |
| --- | --- |
| | Aleksandar Karakasevic (SRB) won the Men's Singles title at the 2007 U.S. Open which concluded on Saturday, July 7, 2007. Aleksandar overcame Wilson Zhang (CAN) in the semifinals 4-1 then defeated Yousuke Kurashima 4-0 in the final. The Women's Singles title went to Yuka Shiosaki (JPN); she defeated Sachie Shigemoto (JPN) 4-3 in the semis then overcame Tanja Hain-Hofmann (GER) 4-2 in the final. |
Highlights from Friday, July 6, 2007, include the Men's Singles quarterfinals, Zhang, Wilson (CAN) defeated Mitamura, Muneaki (JPN) 10, 4, -11, -7, 10, 10, Karakasevic, Aleksandar (SRB) won against Tanaka, Katsuhito (JPN) 8, -10, 7, -8, 8, 9, Feth, Stefan (GER) defeated Kiho, Shinnosuke (JPN) 4, 7, -5, -8, 8, 10 and Kurashima, Yousuke (JPN) overcame the World Champion Longcan, Chen 3, -7, -5, 3, 8, -8, 5. In today's Women's Singles event, four players currently remain, Shiosaki, Yuka (JPN) vs. Shigemoto, Sachie (JPN) and Huang, Yao (Crystal) Xi (CA) vs. Hain-Hofmann, Tanja.
Also, Hugh, Adam (NJ) won the U-21 Men's Singles title and Zhang, Mo (CAN) won the U-21 Women's Singles title.
| | |
| --- | --- |
| | Defending US Men's champion Aleksandar Karakasevic (SRB) has not lost a game as he heads into the Round of 16. Butterfly's Mo Zhang (CAN) won a nail biting match over Soo Yeon Lee (CA) 11-9 in the 7th to advance to the Round of 16 over on the women's side. |
Wang Liqin wins men's singles gold medal




Sun May 27, 2007 9:40 PM IST


ZAGREB (Reuters) - Wang Liqin won the men's singles gold medal at the world table tennis championships
on Sunday when he beat compatriot and top seed Ma Lin 4-11 8-11 11-5 4-11 11-9 11-8 11-6 in the final
Wang staged a spirited comeback to claim his third world title after he beat Ma in the 2005 final in Shanghai
and won the 2001 event in Osaka.
Ma appeared to be heading for a comfortable win at three sets to one up and 9-7 ahead in the fourth before
Wang, a rare Chinese competitor not playing with a penholder style, turned things around.
Wang won four straight points to stay in the match and never looked back as he kept his old rival on the back
foot in the sixth set and the tiebreaker.
Wang had beaten Olympic champion Ryu Seung-min of South Korea 6-11 11-3 11-7 14-16 11-6 10-12 11-7
earlier in the day to reach the final while Ma beat fellow Chinese Wang Hao by four sets to two in the other semi-final.
-------------------------------------------------------------------------------------------------------------
(Many local players saw these two players meet in the USA at the 2005 Killerspin event at Mohegan Sun in Connecticut)
2007 match highlights: http://youtube.com/watch?v=r4ADv13LG4g
see a 5 min highlight video from their 2005 match here: https://www.youtube.com/watch?v=IPTGcDx3TyE
for more 2007 World TT Championship results: go to www.ITTF.com


California Table Tennis Player is audience favorite on 'Survivor' TV Program -
Yau-Man Chan, the Martinez resident who came oh-so-close to winning $1 million on "Survivor: Fiji," swears that
he tries not to torture himself with all the wouldas, couldas and shouldas. But he admits it isn't easy.
"I made a very expensive mistake," Chan said on Monday, just hours after the CBS reality series concluded with
Southern California ad executive Earl Cole striking gold.
Chan's ouster -- shown early in Sunday's finale -- brought to an end one of the most engaging and inspiring runs in "Survivor" history.
A scrawny, 54-year-old computer whiz and table-tennis aficionado who works at UC Berkeley, Chan was given almost no chance
of thriving in the physically demanding game. But thrive he did. (excerpts) - read the whole article at:
http://www.contracostatimes.com/portlet/article/html/fragments/print_article.jsp?articleId=5899900&siteId=571

click logo for results, Primorac (above) in top gear en route to the final Photo by Gerry Chua Photography

Killerspin Brings TT Stars to Chicago and ESPN TV
Staged in Chicago, the `Windy City', on Friday 29th and Saturday 30th December 2006,
Kalinikos Kreanga of Greece and Belgium's Jean-Michel Saive won the two major titles on offer
at the McCormick Place Convention Center.
Eight of the world's stars competed in the Killerspin SPINvitational with Zoran Primorac,
Aleksandar Karakasevic, Ilija Lupulesku, Thomas Keinath, Jörgen Persson, Jean-Michel Saive,
Koji Matsushita and Sharath Kamal completing the line up whilst two hundred and sixty players
participated in the Killerspin Holiday Open. (Click HERE to go to the complete ITTF Article)
More broadcasts are TBA at espn.go.com members of our e-mail list may be notified as more info is available
16 Players brave cold weather for Sunday TT during Superbowl.
As we did, even during the years when New England won superbowl titles, our Sunday night session in Middletown
was held as scheduled in Early February. While some of our regulars were missing , those who showed, in spite of
temperatures in the teens included players of all levels from all over the state including CT. #3 Ernest Virgo .

Jean-Philippe Palengat regains Top state rating in CT
Jean-Phillipe Palenget regained his position on top of the USATT ratings list for CT.TTA players from fellow Fairfield
club-mate Rich Dewitt at a recent Pennsylvania tournament. Jean-Phillipe fittingly earned his best ever US rating of 2400
and contributed to bringing Dewitt under 2400 with his second tournament win over Rich.

GETTING BACK TO THICK OF THINGS:
Sweden's former World No.1 table tennis player Jorgen Persson. Picture by Noushad Thekkayil
By N.D. Prashant
FORMER World No 1 Jorgen Persson is back in Qatar.
Not on a coaching assignment, but as a player leading the Swedish challenge at the Leibherr Qatar Open Table Tennis tournament.
Persson had quit in 2005 after Aspire handed him a coaching position in Qatar,
but has decided to come out of his retirement because he feels he still has lots to offer to the sport.
"I quit the game when I was offered the job although I was very fit physically," Persson told Gulf Times.
"During my one-year tenure in Qatar, I realised that I can keep going.
I still have the fire in my belly and that helped me change my decision," said the veteran who
last won gold at the World Team Championship in 2000.
Most of the players who started with Persson are no longer in the business,
table tennis being a sport where supreme fitness is of utmost importance.
However, what keeps Persson going is the challenge to play against youngsters.
"From the time when I started, the game has become faster by the day.
I always like playing against youngsters; they come hard at you.
I am sure I can surprise a few here as well," declared Persson, who will be also taking part in the doubles event.
Click here for complete article
Middletown draws 33 players for Sunday night play -
Ask long time local players like Tim Nguyen or Mike Dormody how Middletown and Fairfield T T clubs have grown
since they first joined with the then newly arrived Club Director Dave Strang for weekly playing sessions 10 or 12 years ago.
Back then, a typical playing night in Middletown drew 6 players - with about 10 on the best nights ,
usually playing on 3 or 4 tables-( and if UCONN or the Patriots had a big game, we wondered if we should even be open.)

So, it's exciting now, in early 2007, when both Tim and Mike were there, during a Patriots AFC playoff game on TV,
as a near record 33 players joined us on 12 tables for an enjoyable night of Sunday play at Riverview
Hospital's spacious west Gym.

Another difference from 1997 to 2007 ? - we've developed a much wider range of playing styles, levels and ages
and a higher overall level of play too with players now often traveling from every corner of the state on a regular basis.
In earlier years, in spite of numerous exhibitions, clinics, TV appearances, tournaments and leagues,
the typical players were mainly 30 and 40 something adults in the near novice1000 to 1400 range,
with a few 1700+ players at times.

In the last 6 to 8 years though, as occurred during the recent Sunday, player numbers and levels have gradually expanded
to now often include a half dozen or more new players in the unrated to 1200 range, a dozen or more solid and experienced
players between 1400 and 1800, and as many as a dozen in the USATT Expert 1800 to 2300 rating range.

And while middle-aged men are still well represented, often returning to the sport of their youth as career and family allows,
weekend sessions and 15 years of Senior Games events have widened the age range
from 10 and 11 year olds to regulars in there 60's, 70's and beyond.

FAIRFIELD STARTS 2007 with a bang !

Fairfield TTC had a 20+ player Thursday night session followed by a 30+ player Saturday afternoon
to start January play in 2007.
The near record Saturday turnout, on a sunny afternoon, despite 65 degree weather, included players from 11 to 70 years old,
and unrated, including at least 6 first timers to about 6 players over 2000 or 2100+ rated, one of them 2300+ and another
over 2450 - Top 20 in US Men..
About 6 juniors and youth practiced with each other and players including some in their 60's and 70's
To accommodate the many players, the usual 2-5:30 afternoon session was extended past 7pm with a few younger players
staying until about 8pm when club director and coach pulled out his 'hardbat' and held an impromptu clinic on how
to move and stroke correctly to topspin against his slow but sometimes spinny near 2000 level chopping game.
as shown in photo 2 from the Tennis center exhibition last spring (article below in 2006 news).



As club director, I've done as much as possible to attract and retain a steady stream of new players, and provide everyone
with the best playing conditions , 20+ tables in two of the best Gyms for our sport in the country,
and tools like access to coaching, videos, and rackets. But the enthusiasm and cooperation of each of you
among our diverse and growing group of regular players, has been key to developing a competitive, but also friendly group of players.
Thanks also to the special supporters who have shared and supported my vision for a network of local
clubs with a player-friendly balance of competitiveness and cooperation based on a shared love of our lifetime sport.

CT Club Play ends 2006 with SPECIAL New Years Eve club night
Did you miss our special New Years eve club night in Middletown ?
When asked the Wednesday before most Middletown players were reluctant to commit to New Years Eve play.
But then, on the previous Saturday in Fairfield, when a number of players asked if we were playing Sunday night, a decision
was made to go ahead.
At first, 8 players were committed, but after a late Saturday announcement on the club schedule number
and a flash e-mail, the final result was a twelve player night which included 3 former or
current state champions, current #1 rated Rich Dewitt (2450+) former CT #1 Ernest Virgo, now rated 2286,
and 2070 rated Dave Strang. Additional 2000+ rated players included Wilbert Lawrence and Tim Nguyen .
They were joined by Don Feltenberger, Terrance F. , Dennis S, and Rod, Cecelia and Bob K.
In some of the night's most anticipated matches Virgo upended Dewitt, and Cecelia beat Bob !
Participants were able to enjoy a unique night of play and still have time to be home or elsewhere long before Midnight.
2006 U.S. Nationals Draws & Results Las Vegas• December 13-16 2006 photos c.USATT.org


MS Champ David Zhuang 2-Ilija Lupulesku #3Cheng Yinghua WS Champ Wang Chen 2nd Jasna Reed
click on photos above for better/bigger image
click on event for full results: Men's Singles - Women's Singles Men's Dbls - Women's Dbls Mixed Doubles

Dewitt earns near 2500 rating in North American Team Champs
Rich had his best tournaments ever, winning 23 matches with only a few losses, earning his highest USATT rating ever, 2465.
For perspective, the 25th ranked player in the USA is only a little higher at 2506 !.
The tournament draws nearly 1000 players on about 200 teams from as far as China playing
on about 100 tables in the Baltimore convention center. Articles are here: http://www.baltimoresun.com/news/local/bal-md.pingpong26nov26,0,3531034.story?track=rss
and: http://www.examiner.com/printa-418847~Pros,_amateur_table_tennis_players_square_off.html

December specials available on Newgy Robots --ask Dave
I can have a reliable and economical Newgy Robot delivered to you
in about 4 days, or at a club meeting in a week or less with your
C.O.D, credit card or cash (money order) payment & information in person or by phone or e-mail.
Prices range from about $250 to $720, delivered depending on the model and features.
See my website, e-mail me or ask in person for more information.
Your purchase through me costs you nothing extra but earns a commission for me,
and free bonus coaching or club visits for you, depending on the model purchased.

* Fairfield switches back to Thurs.
- Saturdays continue as before
This change from Tuesdays back to Thursdays was due to city flu clinics(& the election) on Tuesdays.
But will continue for the foreseeable future (based on continuing good turnout).
Saturday afternoon play continues throughout 2006-2007
(We are currently limited to 2 sessions per week at each location)
Call the schedule message - (203) 692-2055 to confirm FF TTC play (after Dec 1st) to find out.
( Middletown play Sundays & Wednesdays aren't changing
before late December unless severe weather prevents safe highway travel.)
** If players express interest, and our host facility consents, we MIGHT reschedule Sunday
sessions scheduled for Dec 24th and 31st to the following Monday or Friday night .
Call (203) 692-2055 to confirm current schedule via the recorded message there.
FALL 2006
Welcome new players - and welcome back too
We have quite a number of new friends joining us recently at both clubs already this Fall.
Too many to list here, but you know who you are, and we appreciate you joining us.
They range from unrated beginners to 5 to 10 or more experienced players likely to play at
a 1600 to 1900+ level once they get back in practice.
We also welcome back old friends including Summer cricketers Subhajit & Sunil
and past Fairfield, Middletown (and even former Hamden/New Haven TTC) regular Tim Nguyen.
These players have helped us exceed 20 players during most recent sessions in October,
and have added to the nightly excitement and variety for players of all levels to enjoy.
Spring / Summer 2006 NEWS Headlines: (See Articles below:)
* CT.Table Tennis Association 'Stars' Featured at Sports Festival
*SCHEDULE CHANGES Starting April 15th CALL TO CONFIRM
* NEW Phone NUMBER FOR CT TT CLUB Schedule INFO: 203-692-2055
* Middletown TTC hosts SENIOR GAMES TT Event
* WORLD CHAMPIONSHIPS IN GERMANY - China rules
* RULE CHANGES DELAYED: Glues OK till after 2008 Olympics
* KILLERSPIN EVENT POSTPONED
* Texas Wesleyan and Stanford take NCTTA College Championships
* CT. players take top 3 places in R.I.Open
* Fairfielder makes career win to reach 2300+ best ever rating
.* Caribbean Champs play in Fairfield - Join record Thursday turnout
Middletown TTC hosts CT SENIOR GAMES TT Event
SUNDAY MAY 21st 5pm-
Finalists in each age category became eligible to compete at the
The 2007 Summer National Senior Games - The Senior Olympics, held June 22 - July 8 in Louisville, KY
SEE MORE EVENT NEWS & RESULTS: (AT OUR SRs TT WEBPAGE)

CT Junior champion takes greater NYC tournament titles/ Nearly Doubles his rating.

David Katz of Stamford, took singles and doubles 'gold' recently in the AAU Junior Olympics Greater New York City
table tennis championships . David took singles and doubles titles, both in the under 14 boys age category.
And at another recent area tournament he won 13 of his 16 matches, and events including U-1600 singles,
competing mostly with adults rated above him , boosting his USATT rating from 0778 to 1442 .
'Dad' & practice partner Sheldon had good results too, reaching 0932 from a previous 659 rating.
David won his first junior titles at the 2005 CT. Championships last spring.
He and father Sheldon took up TT 'seriously' the previous winter with practice and lessons at the Fairfield TTC
with club director and coach Dave Strang..
They practice regularly with each other at home and as often as they can in FF, usually on Saturday afternoons..

Players showcase 'REAL Table Tennis' TM at Sports Festival
Six of our CT.TTA players shared the 'stage' with former French Open Tennis Champion and ESPN personality
Luke Jensen May 7th & 8th. The six Fairfield & Middletown TTC players were featured 'entertainers' and coaches
at the inaugural "Four Seasons Family Tennis and Sports Festival" at New England's largest Tennis facility in Wilton CT.
close-up photos-C.Nagy- c.'06 Sheldon/David Katz entertain View thru glass from club lounge wide-view photos.D.Strang c.'06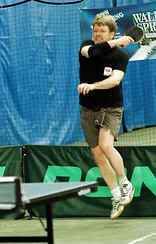 Dave Strang Backhand lob Val Ort's Forehand Drive Strang Counter-smashes
The Table Tennis arena's location between the Feature Tennis court, the glass walled balcony and the court level food court
showcased the sport to most of the thousands of sports & fitness minded guests who attended the 2 day multi-sport program.
sponsored by Wilson Sporting Goods, The Tennis Channel, Green Mountain Coffee Co. & Pilot Pen Tennis
After a hectic two weeks of preparations, the event began Saturday morning with all day drop-in clinics and
exhibition games featuring Connecticut Junior champion David Katz, his father Sheldon, their coach Dave Strang
and Wilton High School Tennis coach Glenn Baron , the TT event's organizers and promoters.
Coach Baron & Festival promoter Scott Hazelwood turned to CT.TTA's Dave Strang to coordinate the TT part of the event & . .
Sunday saw the addition of other CT.TTA members Val Ort and Csaba 'Victor' Nagy as the event's 'ambassadors' for our sport.
Sunday afternoon a Tennis Match featured Grand Slam Doubles Champion & ESPN Tennis's Luke Jenson & friends.
A Table Tennis Exhibition followed Mr. Jensen's Tennis match, featuring CT.Table Tennis champions, Dave Strang & Val Ort.

Dave and Val warmed-up with a dynamic counter-looping and smash and lob demonstration followed by an exhibition match.
Then two of the four Tennis champions joined in challenge games with the TT 'pro's' and each other,
followed by top-spin pointers by Coaches Strang and Ort .
Between featured Exhibition matches, a steady stream of mini-clinic participants of all ages stepped up to the table
throughout the weekend, many fresh from similar golf and tennis clinics offered in adjacent areas.


After seeing the TT exhibitions, representatives from the Pilot Pen Tennis Championships, & new TV Racquet sports network
''The Tennis Channel' sought out CT. TTA director Strang about including Table Tennis in their future events.
Special thanks to our friends at the US Butterfly Table and Newgy Robot distributors for their promotional assistance
and to Igor Knelev , Don Feltenberger and Csaba Nagy for help so Fairfield and Middletown club play weren't harmed by
Club director Strang's time needed for this promotional outreach program, as we work to expand our sport's base of
serious recreational players to 'grow the sport' for everyone's benefit.


WILSON ZHANG PENG RUNNER UP AT US OPEN (Fairfield TTC's Val Ort is coached by Wilson)
July 8th, 2006- It has been three good weeks for Canada's #1 Wilson Zhang Peng. Quarter Finals at the Brazil Open - ITTF PRO TOUR and top 16 at the Chile Open - ITTF PRO TOUR and finalist at the US Open. The list of high level players Wilson defeated on the way includes Ference Paszy (HUN), Thiago Monteiro (BRA), Liu Song (ARG) and Kostadin Lengerov (AUT). (from TT Canada's website)


Earlier 2006 News:
* 'Looper-bowl' tries new format on 'Super-Sunday'
* Connecticut Player 2nd in New Jersey Tournament
* Middletown attracts record turn-out to begin 2006
* 2005 TT Matches Re-broadcast on ESPN2
(Click here for 2005 news articles):
WEEKLY PLAYING SCHEDULES CHANGE After APRIL 15th
Due to changes in facility availability , our schedule for Spring 2006 has changed..
The change sees Fairfield's weeknight play shift from Thursdays to Tuesdays (still 7 pm)
with Middletown's Wednesday session switching to Thursdays (still 7:35pm).
Weekend Sessions continue as before - Sat. 2-5:30pm in Fairfield & Sundays 6:30-10p in Middletown
This new spring 2006 schedule will continue - at least until late May - if not longer.
Call ahead to confirm playing schedules, especially near or after Memorial Day at the NEW number listed below
Please Use the new number for club schedule information (203)692-2055



World TT Team Championships decided May 1st -Bremen Germany

2006 WORLD CHAMPIONSHIPS


While powerhouse China, the odds on favorite, took top honors in both Men's and women's events,
Perennial rival Sweden's men's team was reenergized by the surprise return from retirement of many time world champion
Jan Ove Waldner, but only enough to reach the quarterfinals.
In early results, the now 40 year old Waldner shocked 2005 World Singles semifinalist Michael Maze in a dramatic 5 game match
to lead his younger team-mates to a convincing victory over Scandinavian rivals and 2005 European Champions Denmark.
Korea reached it's first Men's Team finals by besting Austria and former World champion Schlager, while the Chinese men
consigned host Germany to 'bronze' with a dramatic semi-final win over a loud packed stadium cheering national hero Timo Boll.
(pictured above) While viewed live by hundreds of millions in Europe and Asian TV markets,
US and Connecticut players will have to wait for DVD sets available later this spring unless the event is picked
up for taped broadcast by Cable and satellite TV outlets like ESPN or The Tennis Channel..
read the complete article on Waldner and his win at the ITTF site
You can read event news at the official site - including links to match results linked here:
http://www.ittf.com
RULE CHANGES DELAYED: Glues OK till late 2008 - some 'dead' 'junk' rubbers banned
Proposition 10, the postponement of the stricter regulation of glue solvents until after the 2008 Olympics, has passed.
Resolution A, which calls for a minimum friction level on pips out rubber, has also passed.
This would mean that several current long pips rubbers (e.g., Dr. Neubauer and Hallmark LP) will eventually be removed
from the ITTF list of authorized racket coverings. I imagine the earliest that this could go into effect would be as of January 1, 2007.
Wiping your hands on the table is still allowed (Proposition 16 was defeated).
Propositions 18 and 21, which would have allowed doubles partners from different associations in the World
Championships and World Junior Championships, were also defeated. (as posted at About.Com TT forum by 'JoeBruin'.)

Texas Wesleyan/ Stanford take College Championships
Stanford's club took women's honors while host school, Texas Wesleyan took it's 3rd Men's Title
in the team championships conducted by the NCTTA in April.
Eric Owens and Jasna Reed took individual titles in the ACUI Men's and Women's singles divisions.
Table Tennis is a growing club team sport at hundreds of US colleges including Connecticut's
Wesleyan and Yale. NCTTA is in the process of seeking NCAA recognition as a Varsity sport,
starting first as a women's intercollegiate sport. link for more NCTTA results
Recent list of College clubs from USATT


CT. players take top 3 places in R.I.Open
Subhajit Maitra of Middletown upset Rich Dewitt in one semi-final to meet Szymon Miczuga
in the finals . Szymon was too strong. denying Subhajit his second RI Open title with a convincing
straight games victory. Kevin Dolan, a Middletown club junior won the U-1000 rating event.

Fairfielder Rich Dewitt scored his best lifetime win recently
Playing at the annual Cary Cup tournament

in N.Carolina, he upset Brian Pace of Atlanta.
Brian, currently rated 2438 in the top 50 US players was once rated over 2600 among the top 20 US players.
See Rich's play in a recent N.E. tournament:
click link to see short video provided by
Rich's 'victim' RITTC's Steve Hopkins:
https://www.youtube.com/watch?v=f_NCkgjfxgU

Caribbean Champs play in Fairfield - Join record Thursday turnout
On Feb 15th, our regular Thursday night session in Fairfield set two records.
First, boosted by 6 or 8 new players, we had a record 33 players participate. But in addition to quantity
we were also pleased to host a first time visit by two top players not previously seen during
club play in our state, both rated near 2500 - among the top players now in the USA.
Paul David, Guyana's #1,(USATT rated 2459) and Trevor Farley (2531), Barbados champion.

A number of the first timers were treated to seeing an impressive topspin warm-up between the players
and matches between them and Fairfield's Rich Dewitt and Dave Strang.
Dave's best outing was with Trevor where he scored deuce game losses in three of the four games played
including one that went past 22- all in an 11 point game before Trevor prevailed.
Rich scored his best against Paul David, taking a game before bowing out in the match 4 games to 1
Thanks to these great players for visiting us and for Don Feltenberger for encouraging
the visit . Trevor will represent his country in the Commonwealth Games in March in Australia.

Winter club schedule reminder - we don't usually close if roads are clear & players show interest
As illustrated in the 'looper bowl' article, & by Sunday night play on Jan 1st and after the big storm,
we aren't quick to cancel because of a holiday, competing event or all but the worst storms.
In fact we opened for a group of about 8 players the evening of storm 'Carson' w/ 2 ft. of snow earlier.
If major highways are expected to be passable before and after our regularly scheduled session,
and we have reason to expect at least 8 or 10 players, it's rare for us to cancel.
But if you drive a distance and have any concern, call our schedule message, currently
available at (860) 586-7055 for a message update (if needed) with the current schedule
or any changes or cancellations. During uncertain weather situations,
a final decision may be delayed until about 45 minutes before the scheduled starting time
so call just before you leave in those situations.

Looper-Bowl TT on 'Superbowl Sunday'
Continuing a 4 year tradition, our Open play during the big football game attracted 20 players to our regular
Sunday night session in Middletown including a drop-in tournament involving some of the players.
. This time, instead of the individual round-robin groups divided by rating used during
previous 'looper-bowls' we organized two-player teams.
The resulting 4 teams, involving 8 players, all under 1700, was played
as a semifinal and final elimination bracket.
Meanwhile12 of the 20 players in attendance enjoyed open play including 'winners'
matches on some tables, and practice on others.
We were also joined by 3 players from the Yale University TT team who
Joined us for extra practice in advance of their winter regional collegiate tournament.
Playing 4 singles matches with one doubles match as a tie-breaker , the team matches finished with:
1st place Yosif Gorenbeyn, & Igor Volynski,. winning a close match 3-2 over Michael Pelellcia, and Milind Kale,
based on taking the doubles after splitting the 4 singles matches.

Fairfield TTC Player 2nd in N. Jersey Tournament, Now #1 in CT.
Jean-Philippe Palengat a regular player in Fairfield,
reached the finals of the January Westfield NJ Open.
He reached the semi-finals with a perfect record in his preliminary round-robin group
and reached the championship match by beating New Jersey Champion Barry Dattel.
J-P's only loss came in the finals to former Nigerian champion Atanda Musa.
Musa is now ranked 9th in the USA and once had a similar ranking in the world.
In the process, Jean-Phillippe earned a 2346 rating, placing him at #1
on the January Connecticut ratings list with the highest USATT rating in recent state history.



Middletown attracts record turn-out to begin 2006
Boosted by a half-dozen first time visitors and nearly as many youth, the Middletown club reached a record 35 players on
a recent Sunday in January. Players included beginners, intermediate and experts up to players USATT rated over 2300.
A practice match saw new CT #1 ranked Szymon Miczuga affirm his recently earned position with a 4-2 game win over
Connecticut and former Jamaican champion Ernest Virgo.
14 tables were used to assure plenty of play for all and the regular club hours were also extended to 11pm.

POSTER: -------
click here for a printable POSTER :
Please POST copies of this poster in places you work, shop, go to school etc.
Copies are usually available from Dave at the club too.
(Depending on your browser and printer settings, you may find it easier to save the page as an image
and import it into a graphics or publishing program so you can print it exactly
as you wish with correct size and borders.)
People often ask how we advertise the clubs. Newspaper and TV advertising costs thousands.
We depend on word of mouth and the web site because other advertising just costs
too much for such an inexpensive sport.
These posters and available bumper stickers and T-shirts are affordable ways to attract new players. *************************************************************************
***SEE 1st LINK BELOW FOR MORE CT. & International T.T. NEWS (for previous years)>*** *************************************************************************

back to NETTA homepage:

NEWS/ RESULTS links below
(Click here for 2005 news articles):
2004 news:
2003 news:
2002 news:
2001 news:
2000 news: