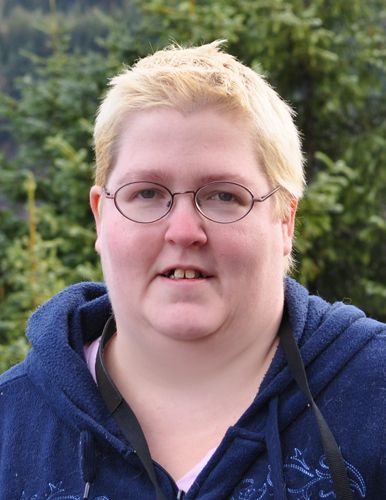 About the artist... Hmmm, I've never been sure how to start one of these pages? Do I just start talking about myself? Well my name is Kollean and I live in Juneau Alaska. I've traveled all over the United States and in Canada as well, and I will say that there is no place more beautiful than Southeast Alaska. Juneau sits in the center of a temperate rain forest, so its no wonder that rain is my inspiration for much of my art work.

I started painting small figurines, one inch tall miniatures, when I was 12 years old, and slowly worked my way up from there. Over the years I've tried flat painting with Oils, Acrylics, Watercolors, I've drawn with Inks and Chalks, Pastels and Pencils, even Crayons. I've worked in Wood, Soap Stone, Marble and Clay, and during all of that, I've always returned to Model Horses.

My personal collection, at the moment (November 17, 2011) contains over 8000 OF (Original Finnish or Factory Finnish) models from some of the most well known manufacturers. Breyer, Peter Stone, Hartland, Hagen-Renaker, Black Horse Ranch, Creata, and many many more. Breyers will always be my favorites.

Now at 35, there are not many aspects of the model horse hobby that I haven't gotten into. Photo Showing, Limited Live Showing (through proxy), Customizing, Tack Making, Photography, Pedigree assignment. I've done just about all of it.

I'm into Tattoos, Japanese Animation (Anime), Yaoi, Dogs & Dog Training, Horses (the real life kind), Nature Photography, Poetry & Writing, Watercolors and other forms of flat art, Horror movies and TV Series such as House, Bones, Burn Notice and The Walking Dead.
This Page
was
Last Updated
November 17, 2011
---
E-mail:
StoneWolf99801@
yahoo.com
---
---
I came up with the name "StoneWolf" quite a few years into the hobby. My original stable name "White Wolf Stables" is all that's remaining of my old chosen handle/title. White Wolf seemed to be a popular name with gaming companies and such so it was at about 20 years old I changed my studio to "Stone Wolf".
The wolf is my totem spirit, not to mention my favorite of all animals, though horses, dogs & cats are close in the listing..
Mostly here at Stone Wolf Creations we offer custom painted models, and occasionally tack or props for the model showing world. Though do to traffic Its not often I take commissions anymore. When I paint models, I let the model tell me what it wants to look like. Its far to easy to get disillusioned with this hobby when instead of using your own creativity your reading off colors and formulas from a sheet.
Despite the size of my collection, I live in a relatively small apartment rented from my folks. And yes, even at age 35, and renting from my parents, I have a rental agreement I sign each year. Hmmm, I think they know me too well.

At 35, I'm the youngest of five children, I have two half brothers, Shawn (moms) and Larry (dads), and two half sisters, Kathy (moms) and Kay Lynn (dads). And then came me. LAUGH! If they only knew what they were getting into!