MenuMaker for GLaunch by Ken Rager
Welcome Home Arcade Enthusiast!
MenuMaker for GLaunch is a add-on program to be used with GLaunch. It will allow you to build and edit favorites lists from your arcade cabinet's controls. Hooking up your keyboard and mouse to the arcade's computer is not necessary, except the first time you use MenuMaker. If you have a lot of games on your arcade, you can create a favorites list with only the games you play often.
What is GLaunch? GLaunch, or Game Launcher, is a menu type program that allows you to play your arcade games. It was written by Dave Dribin.
Learn more about GLaunch by clicking here.
What is Mame? Mame is a free program that allows you to run old style Arcade games on your PC.
Click here to learn more about Mame (Multiple Arcade Machine Emulator)
Glaunch is a real neat program, however I did desire to create game lists that will allow me to keep my favorite games in a list by themselves,
MenuMaker for Glaunch is a program that will allow me to do that.
MenuMaker will let you build your favorites list, add games to it, or take them away from it.
MenuMaker can be run from the arcade cabinetís Player One controls, so your favorites lists can be created and edited without hooking up the keyboard and mouse. MenuMaker does require that the keyboard and mouse be connected to set it up the first time.
Requirements:
MenuMaker only runs in Windows 98 and up. Currently it has only been tested on WinXP.
Glaunch must already be configured on your Arcadeís computer to run Mame Games.
You must have mame games (called ROMs) already on your computer.
Read the readme file that comes with MenuMaker.
Click here to view the Questions and Answers section.
MenuMaker , Glaunch, and Mame are all free programs, the games ROMs are not. Please read the legal statement on the Mame website.
MenuMaker Instructions:
Download the program from the link below.
Save it where you can easily find it.
After it is finished downloading, double click it and follow the install instructions.
You may install it wherever you want, but it is suggested you use the location recommended by the install setup program.
You can run it by clicking on the MenuMaker icon on the desktop.
If you plan to run MenuMaker from within Glaunch, you will need to copy the menumaker.exe program to the Glaunch\Misc folder.
Do not copy the downloaded setup program, but the menumaker.exe program located in the folder that you installed it to
(default is C:\GLaunch MenuMaker\)
Only copy the menumaker.exe program to the glaunch\misc folder.
Contact me if you have any questions or comments:
Disclaimer: This program works great on my computer, but I have to say that I cannot be held responsible for any mishaps that you may encounter, Please download and install at your own risk, and I highly suggest you make a backup of these files before installing MenuMaker, just in case:
glaunch.cfg
mame.cfg
mame.map
mame.rom
Please contact me for any questions before installing Menumaker.
Hopefully I will get some screen shots here soon.
Now, to download MenuMaker, go to this site:
MenuMaker V1.0.4
Click here to go to the download site. Thanks to Saint for allowing me to post the file on his site "Build Your Own Arcade Controls". Check out the site, its a great resource!
Thanks for your interest!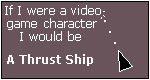 I am a Thrust-ship.

I am small and tricky - where you think I am, I probably am not. I can work very fast, but I tend to go about things in a round about way, which often leaves me effectively standing still. I hate rocks. Bloody rocks. What Video Game Character Are You?