The North American Phonograph Company proprietor is Shawn Borri , one of the few individuals that has the intelligence to revise this lost art, I emphasis LOST ART. We are however working hard to provide, when we have surplus, historically accurate brown wax recording blanks and sound recordings. These are made with a very high quality process, each blank is 34 days in the making. Because of the very slow process and the fact this is our hobby; with the idea that it is to be enjoyable and entertaining. We DO NOT ACCEPT ORDERS. The only ordered recordings we do is LIVE recording at OUR FACILITY! And what a privilege! You will be recording on Edison recorder #3 from Edison's New York recording studio, the only functional original studio recorder in the world. It was uses by Walter H Miller, who was with Thomas Edison's record companies ; Edison Phonograph Works, North American, National, and Thomas A. Edison Inc. Miller worked for Edison from 1887-circa 1930. The recording head was made sometime after 1903. The blanks themselves are hand made with strict time and temperature control methods. The mold, is pre heated, the wax made on a schedule, each blank comes out at 2.3" in diameter, so each is tested for volume, tone, surface noise at non commercial diameters. Blanks are sold at diameter from 2.196"-2.150". Blanks are $45.00 each, no quantity discounts, no exceptions!!!

Front side of our Studio recording Phonograph
We are equipped with over 100 glass diaphragms from .0065-.0085 for excellent recordings!
Back side of recording phonograph. Uses original
1903-1927 Edison Professional studio recording head of the trailing type. From Edison's 79 5th av.
The North American Phonograph Company is Living History! We make the most historically accurate , brown wax cylinder recording blanks, and playable working replica cylinder records. They are made with a laborious, process, each blank is 8 hours of labor over a 4 day period, and each blank aged 30 days before shaving to be used as a blank or recorded upon at our facility. We also offer live cylinder recording using special instruments, our recorder Edison studio recorder #3 actually came from Edison's recording studio, and was used by Walter Miller, the sound engineer who worked for Mr. Edison from 1887-1930. The recording attachment was used to cut masters for Edison commercial records. Our blanks are spiral core blanks just like 1890's original products. I am sure you are skeptical, as most are. Call us (phone hours 4pm-6pm CST )(815) 876-6897 or write
The North American Phonograph Company
615 1/2 South Main Street Apt B
Princeton, IL 61356
These products are not mass produced, and made in limited numbers.
The Quality product we make!
Of the finest componets, and painstaking method, each blank takes 4 days to make and 30 days to cure
Childhood Home in the Quad Cities. Andy Schumm And His Dixie Flat Landers. Recording blanks and machine by Shawn Borri Audio Laboratories.
Navigation by WebRing.
Pablo Helguera-Archive Dead Languages Conservatory. Shawn Borri produced the cylinder records for this project. The project started in 2004-ongoing, and comprises of over 400 recordings. Shawn Borri has manufactured over 13,000 wax cylinders since 2000.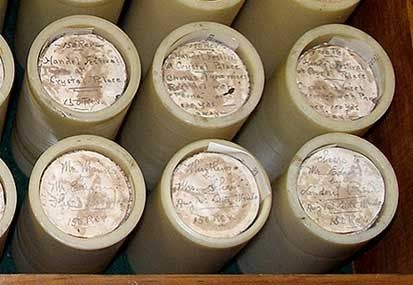 ABOVE- The Oldest Edison wax cylinder records made in 1888 by chemist Jonas Aylsworth, for the perfeced phonograph. BELOW- These are the oldest Edison Phonographs that play and record wax cylinder records, and are at the Thomas Edison Historical Park in West Orange New Jersey. On the mandrel of the oldest Edison phonographs (1887-1888) in the world, are replica blanks made in 2010 by Shawn Borri's hand, here is proof of knowledge of the art of producing phonogram blanks.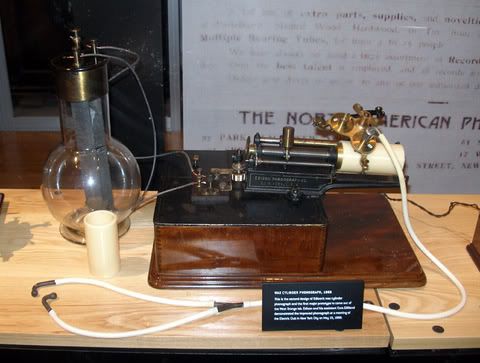 Cick here for information on my latest project that is with Chicago Artist Thomas Negovan. This exciting project. I made the blanks and the cylinder recordings, this special project is being released on a limited 500 copy 45 rpm 10" record, I am so excited about the release!