Our Nashville connection to
Unique recording on such as digital and vintage Presto tube recording lathe.
Our Nashville Connection, for live 78rpm, and Digital recording.
Original 1910s Edison studio recorder.
Original recording head used to record Edison masters at 79 5th Avenue New York.
Welcome to the North American Phonograph Company, In name the oldest in the recording of articulate speech and other sounds.! This is a hobby interest of Shawn Borri. This is not a full time occupation, as I work 48 hours a week at a gun-parts manufacturing facility. The only custom recording I do is the recording of live musicians, I do not record from digital files or tapes for customers. The only custom recorded cylinders, is Live acoustic cylinder recording. You are required to come to the studio and perform live vocal and instrumental selections. Call for more information after 3:30 P.M. Central Standard Time (815) 876-6897. I make premium quality recording blanks, that are authentic, and I do sell recordings of my own choosing, (these are dubs of early recordings or what I feel like recording, some live local talent.) Anything that is for sale is available in the store, in limited quantities on a first come first serve basis. All cylinders are recorded with an original recording head, that was used by Edison recording engineer Walter H Miller, at Edison's New York recording studio and was used to record the actual masters for Edison records in the early 1910s-1920s. At this time, we are the first and only facility to make this claim. If you would like to record on this equipment, appointments can be made, and must be made at least 3 months in advance. This hobby was started as curiosity if it could be done. It is a hobby, any funds made go into purchasing more materials, and upgrading, and maintenance on century old equipment, and the replication of equipment lost in time. I work very hard to bring you a quality cylinder, with very little surface noise, the wax making process takes 3 hours, as well as 3 hours each for the casting of each blank. My output is from two to six blanks a week. Since 2000, I have made over 10,000 cylinder records and blanks. Each blank is tested and graded, and priced accordingly. The process is thermostatically controlled, the molding takes place at 232C as well as the pouring of the wax through many filters, to ensure quality.
New Innerspeaker Re-creation
Of an 1890s Edison brown wax record, made from raw materials, and authentic, clearly dated 2015!
Re-creation of a Columbia brown wax cylinder.
Brown Wax cyinder record,even auhentic record ticket,clearly dated 20156
Childhood Home in the Quad Cities. Andy Schumm And His Dixie Flat Landers. Recording blanks and machine by Shawn Borri Audio Laboratories.
Navigation by WebRing.
Pablo Helguera-Archive Dead Languages Conservatory. Shawn Borri produced the cylinder records for this project. The project started in 2004-ongoing, and comprises of over 400 recordings. Shawn Borri has manufactured over 13,0000 wax cylinders since 2000.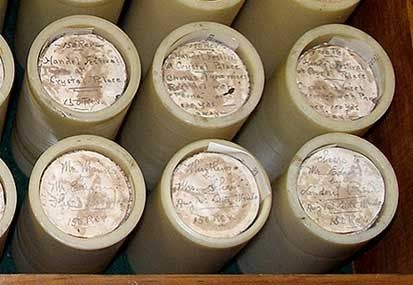 ABOVE- The Oldest Edison wax cylinder records made in 1888 by chemist Jonas Aylsworth, for the perfeced phonograph. BELOW- These are the oldest Edison Phonographs that play and record wax cylinder records, and are at the Thomas Edison Historical Park in West Orange New Jersey. On the mandrel of the oldest Edison phonographs (1887-1888) in the world, are replica blanks made in 2010 by Shawn Borri's hand, here is proof of knowledge of the art of producing phonogram blanks.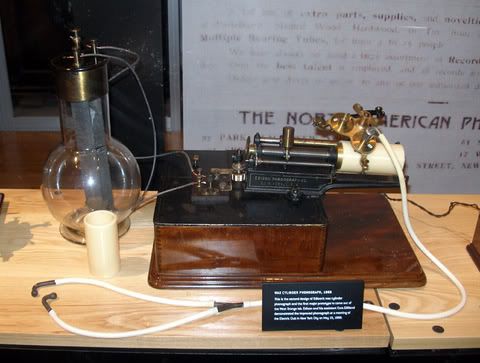 Cick here for information on my latest project that is with Chicago Artist Thomas Negovan. This exciting project. I made the blanks and the cylinder recordings, this special project is being released on a limited 500 copy 45 rpm 10" record, I am so excited about the release!