Art Of The Gifted
Now Playing: "Albedo", ambient sampler on Ultimae
Topic: Addition
I wrote about this on the Waxidermy several years ago, and it keeps popping up now and then so I figured I'd recycle it here within the Acid Archives domains, even if it violates the time constraints.
ART OF THE GIFTED (Denver, CO)
Art Of The Gifted 1988 (no label)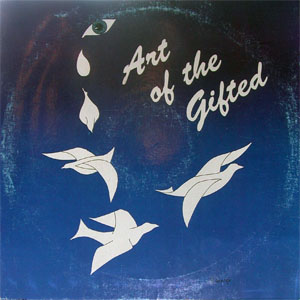 There's lots of records by crazy people out there, but albums made by real mental patients are considerably fewer. Here's one, recorded in 1985 by clients at various mental health facilities in Colorado. The project was the brainchild of Dr Alan Melinger, who also inserted a few numbers of his own creation into the mix. This is less odd than it may seem, as he had been in noted '60s Texas bands the Iguanas and Endle St Cloud (IA). His tracks lean towards an unexceptional '80s Springsteen/Bon Jovi muscle rock sound, and include the 45 pick "Live For A Friend", composed and sung by the bearded Dr Melinger. However, two thirds of the album consist of creative outpourings from patients, and some of these are rather remarkable. "Secret Of The Night" is dark singer/songwriter with an instant appeal, while "We Too Care" is a spoken word female lament over moody keyboard backdrops, reminding us that people with mental problems also care about things such as Christmas. Then there is the "State Hospital Tune" by one Jean M, and here we enter some truly strange domains. In a somewhat toneless voice, Miss M delivers a rhymed poem which mentions a lot of her psychiatrists by name, and not all that respectfully either, followed by strange narrative jumps and 30 seconds of French chanson singing. As often within the field, it's hard to tell where irony ends and true pathology begins. Before the therapy project had been completed the 38-year old Dr Melinger died of a heart attack. Out of respect for his efforts, the album was pressed up and released privately in 1988. Oddly, the cover opens at the top rather than on the right. Here you can find some snips from the LP. [PL]
---
ADDENDUM I (with special thanks to Rockadelic Rich)
As we discovered while looking into this rarely seen LP, Alan Melinger was a former member of Texan 60s garage legends the Iguanas ("I can only give you everything"; "Black Suit"), after which he joined Endle St Cloud, who released a circa 1970 album on International Artists (of 13th Floor Elevators fame). It seems that he in fact
was
Endle St Cloud. In a 1984 garage fanzine interview he testified on being strongly influenced by the Elevators during his Iguanas tenure. He had also been the owner of a 6-foot Iguana which named the band. At one concert he held the iguana by its tail and swung it over his head, but it slipped out of his grip and flew out into the audience. The
Art Of The Gifted
back cover obituary contains no such information.
ADDENDUM II
After Mr Show'n'tell helpfully assisted in hooking us up with Alan Melinger's partner in the Art Of The Gifted project, Dr Dave Babak, some new info came to light and the few remaining copies (5) were aquired for the fringe collector market. The record is not for everyone but remains unique, with must-hear peaks in the two tracks on side 1 mentioned in the review. Since then, Dave Babak too has passed away.
R.I.P Alan Melinger and Dave Babak.
Posted by Patrick at Lysergia at 15:42 MEST
Updated: 13 May 2013 15:46 MEST