The jam band moe. recorded at the studio on July 6, 2002 at Edison Street Studios by the North American Phonograph Company!!!!! The jam band moe. had several albums with Sony, and current record company Fatboy Records, which the band owns. Moe. is comprised of Al Schnier, Jim Loughlin, Rob Derhak, Vinnie Amico and Chuck Garvey. They are very inventive musicians and very versatile in musical style. I went on Friday afternoon to pick up Mike Loughlin from the train station in Princeton IL, He came all the way from Cairo, NY Mike was easy to spot, even though I had never met him in person before he was wearing a Edison Record shirt. We went to the studio to make some test takes,to make sure the Brazilian Edison Triumph was going to behave and it turned out really great! We recorded some harmonica blues with vocal, and acoustic guitar. We then went to Three Sisters Park Chilicothe IL, and enjoyed the concert , I was very impressed by the band, having just purchased a CD of them a few weeks previously. During break, Mike and I met the band, I cannot tell you enough how welcome I felt, they were really great! I had a VIP pass, hung out in the tour bus, very nice! I found out how a band lives, and how fast paced, and timed everything is. Everyone stayed until four am, and so by about 11:00 a.m. we were all awake, and by 12:30 p.m. all moe. piled into my Plymouth Acclaim and made a B line to Edison Street, we did stop at Subway to grab some food. Mike and another driver hauled the band's instruments. We arrived about 1:15 p.m. or so at Edison street, and started recording. They rehearsed the songs for a little bit and practiced singing into a horn, to get the feel of it, and began to record. I recorded both moe. and the band's percussionist, Jim Loughlin, and his brother Mike they performed before the horn, With comedy, jazz and traditional music. Guitars, mandolins, washboard, wood blocks, harmonica and vocals, Bass Guitar, and drums were some of the instruments tried. Mike and moe. said it was well worth the long trip to La Moille to record at Edison street Studios. We cut a total of 17 wax cylinder masters. These cylinders were transferred to digital from an acoustic phonograph via a RCA 44bx ribbon microphone. When we were finished with the digital mastering by midnight, we then brought the A dat, and cylinder masters back to moe. They left for their next gig on Sunday morning at 4:00 a.m. Below is pictures of the session. This recording session is very historical, as Instruments never before cut acoustically on wax cylinders were made. I know wax cylinders will become a popular medium again to record on. I am considered a top authority on wax cylinder manufacture and recording technique.
Al Schnier singing with soul into the horn.
The session turned out real well. More pictures to come.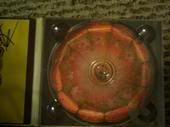 This is the "Wormwood" CD that features "The Edison Laugh Record!". Note the credits in the liner notes, and our playback horn under the CD.
The top video is the song "I Shoot First!" performed by moe. The bottom cylinder is "The moe. Laughing Record." The cylinder from the second video went on the "Wormwood" CD. Click to hear these cylinders!
Please understand that Phonogram blanks made in 2010-2011 are much more quiet, than the blanks made at this session in 2002.
The Whole Band, moe. Recording.
Al Schnier, Jim Loughlin, Rob Derhak, Vinnie Amico, Chuck Garvy at Horn Shawn Borri at left back.