Photo courtesy www.johnnydepp-zone.com

Photo courtesy www.johnnydepp-zone.com
---
December 3, 2007
GET THE BIGGEST BANG DVD HERE FROM BLUE LENA'S LINK! GREAT HOLIDAY GIFT!
The Biggest Bang, The Rolling Stones' newly released 4-DVD set, offers fans an all access pass and behind-the-scenes look at the band's A Bigger Bang world tour, the biggest selling concert tour of all time. Get your copy today to see why The Seattle Times is calling The Biggest Bang "one of the best live-concert videos ever released." The Biggest Bang gives fans: • Entire concerts from the band's incendiary shows in Rio de Janeiro, Brazil and Austin, Texas. • Footage from concerts in Japan, Buenos Aires and Shanghai. • An entire disc documenting the tour from its origins in a small night club to the 116th and final North American concert date. • Twenty minutes of duets with: Bonnie Raitt, Eddie Vedder, Dave Matthews and Cui Juan. • Six songs previously unreleased in any format. • And more! The Rolling Stones' The Biggest Bang 4-DVD set is available to order on-line from Best Buy. Click here to purchase.
---
November 27, 2007
Keith in POTC-AWE 2 Disc DVD Release December 4!
DVD - Pirates of the Caribbean - At World's End (Two-Disc Limited Edition)
Just when he's needed most, Captain Jack Sparrow (Johnny Depp), that witty and wily charmer of a pirate, is trapped on a sea of sand in Davy Jones' Locker. In an increasingly shaky alliance, Will Turner (Orlando Bloom), Elizabeth Swann (Keira Knightley) and Captain Barbossa (Geoffrey Rush) begin a desperate quest to find and rescue him.
Captain Jack's the last of the nine Pirate Lords of the Brethren Court who must come together united in one last stand to preserve the freedom-loving pirates' way of life. From exotic Singapore, to World's End and beyond, from Shipwreck Island, to a titanic battle, this adventure's filled with over-the-edge action, irreverent humor and seafaring myth and magic. Everything has led to this twisting, turning, wild swashbuckling ride in this final chapter of the Pirates Of The Caribbean trilogy
DVD information Release Date (USA): 2007-12-04 Rating (USA): PG-13 Release Date (UK): 2007-11-19 Rating (UK) : 12 Director: Gore Verbinski Producer: Jerry Bruckheimer Studio: Buena Vista Home Entertainment Writer/s: Ted Elliott and Terry Rossio Cast Johnny Depp Captain Jack Sparrow Orlando Bloom Will Turner Keira Knightley Elizabeth Swann Stellan Skarsgård Naomie Harris Alex Norton captain Sam Bellamy Jack Davenport Norrington Keith Richards Captain Teague
DVD Features
DISC 1
Feature Film Presentation Bloopers of the Caribbean – hilarious outtakes of cast and crew
DISC 2
Anatomy of a Scene: The Maelstrom – a detailed breakdown of one of cinema's most complex and impressive action set pieces
Keith & the Captain– A revealing look at the dynamic relationship between living legends Keith Richards and Johnny Depp
Tale of the Many Jacks – an in-depth look at the mind-blowing FX that went into creating multiple Captain Jacks
Hoist the Colours – reveals the inspiration for the "Hoist the Colours" original composition Masters of Design – five individual documentaries highlighting the talented design teams behind this immense production: Jim Byrkit: Sao Feng's Map; Crash McCreary: The Cursed Crew; Rick Heinrichs: Singapore; Penny Rose:
Teague's Costume; Chris Peck: The Code Book
Inside the Brethren Court – a closer look at the legendary Pirate Lords and their costume designs, origins and unique personalities
The World of Chow Yun Fat – a look at the man behind devious Captain Sao Feng, international sensation Chow Yun Fat, and his meteoric rise to fame
The Pirate Maestro: The Music of Hans Zimmer – meet the renowned composer who created the film's rousing score
---
November 4, 2007
Rolling Stones' Richards Joins March
LONDON (AP) — Keith Richards joined about 15,000 people marching in southern England on Saturday against possible cuts in services at a hospital near his country home.
The 62-year-old Rolling Stones guitarist issued a statement saying St. Richard's Hospital — in the town of Chichester, south of London — is a "vital local amenity" for residents, visitors and vacationers.
The protesters believe they may lose an emergency department and maternity services at St. Richard's in the proposed reorganization of three hospitals in West Sussex county.
The rocker has owned Redlands, a country home in West Wittering, near Chichester, since the 1960s, although his main residence is in Connecticut.
On Saturday, he turned up at the Chichester demonstration in a minibus and dressed in a long black leather coat, a trilby hat and sunglasses.
Other celebrities there included Tony Award-winning actress Patricia Routledge, 78, and actor Christopher Timothy, 67, who portrayed James Herriot in the long-running British TV series "All Creatures Great and Small."
---
October 10, 2007
SHINE A LIGHT TO OPEN APRIL 4TH
In August, Paramount pictures announced that Shine A Light would be postponed for an April release.
It has just been revealed to RollingStones.com that the Martin Scorsese directed film, documenting two riveting Rolling Stones' performances at New York's legendary Beacon Theatre, is now scheduled to open in select theaters nationwide on April 4.
Rumors are that the Stones will play some dates in April to coincide with the release of this film. Stay tuned for details as they become available.
---
September 25, 2007
JAGGER/RICHARDS HEAD UP TOP PARTNERSHIPS POLL
SIR MICK JAGGER and KEITH RICHARDS have been named among the most respectable partnerships in the world. Sir Bob Geldof and Bono were also named. The Irishmen were runners up in a list of business and charity leaders, thanks to their phenomenal contributions to fundraising - only falling behind billionaires Bill and Melinda Gates. Jagger and Richards were named the number one pairing in the entertainment world. The survey, by the Leaders in London International Leadership Summit 2007, asked participants to name the most respected partnerships in five categories. In politics, the former United States president Bill Clinton and his wife, and current Democratic presidential candidate, Hillary, were named the most respected couple.
---
September 16, 2007
New Keith DVD Coming Out
A new documentary dvd called Keith Richards: Under Review is due out Sept. 20.
Product Description: He's the baddest of them all, the man with at least nine lives and the most Rock N Roll performer since the dawn of time and we love him for all of it. This DVD features a 2 hour documentary film which details the life and career of the one man who made it all seem possible. It includes rare and classic musical performances re-assessed by a panel of esteemed experts, exclusive interviews, obscure footage and seldom seen photographs. Also included is footage of and comment on Keiths pivotal influence, live and studio recordings of classics such as Satisfaction, Jumping Jack Flash, Brown Sugar, Tumbling Dice, Start Me Up and many others, plus bonus features.
It is reviewed here in this BLOG
---
September 11, 2007
Keith Richards Nominated For A Scream Award
Keith has been nominated in the category of BEST CAMEO for his role in PIRATES OF THE CARIBBEAN: AT WORLD'S END in this year's Scream Awards on Spike TV.
Scream 2007 honors the best in sci-fi, comics, fantasy and horror across a number of entertainment platforms including movies, television, and music. The annual awards also features several fan-based categories that represent viewer's personal favorites.
Stones fans can vote for Keith's performance on www.spiketv.com or http://www.ifilm.com/event/22474
---
September 9, 2007
The London Review Page is complete, and a photo album is now added. Thanks to all the fans who took all the great photos! See the London Review Page HERE
Many thanks for a great tour to Shelley, Bill, Preston, Blondie, Tim and Bernard, and to Keith Richards and the Rolling Stones!!!
---
August 28, 2007
Blue Lena is just returning from a week in London where she saw 2 out of the 3 shows at the 02. See some amazing photos by her friends Gerard Hopman and Tony Dunn, and look for a full review of the shows to be posted soon! Click here for the LONDON PAGE
---
August 15, 2007

STONES IN GERMANY, LAST 5 EUROPEAN SHOWS COMING UP
Stones Play Dusseldorf Monday, Hamburg Tonight Set list Dusseldorf, Germany: Start Me Up - You Got Me Rocking - Rough Justice - All Down The Line - Let It Bleed - You Can't Always Get What You Want - Can't You Hear Me Knockin' - I'll Go Crazy - Tumbling Dice - Intros - You Got The Silver - Wanna Hold You - Miss You - It's Only Rock'n' Roll - Satisfaction - Honky Tonk Women - Sympathy For The Devil - Paint It Black - Jumpin' Jack Flash - Brown Sugar (encore)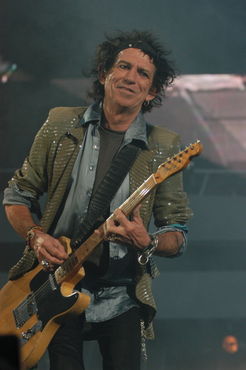 Stones head to Dublin on 8/18, then onto the last 3 shows at the O2 in London. Blue Lena will be attending the London shows on Aug. 21 & 23 and will be updating the website with reviews and photos upon her return Aug. 28.
---
August 12, 2007
Stones Play Switzerland 8/11/07
SETLIST: 1. Start Me Up 2. You Got Me Rocking 3. Rough Justice 4. Bitch 5. Love Is Strong 6. You Can't Always Get What You Want 7. Midnight Rambler 8. I'll Go Crazy 9. Tumbling Dice 10. You Got The Silver (KR) 11. I Wanna Hold You (KR) 12. It's Only Rock'n Roll 13. Respectable 14. Satisfaction 15. Honky Tonk Women 16. Sympathy For The Devil 17. Paint It Black 18. Jumping Jack Flash 19. Brown Sugar (encore)

Keith in Lausanne tonight
---
August 6, 2007
Keith Proves 'Em Wrong in Denmark!
With media reports and message boards slagging Keith daily these days, Keith made an effort to prove 'em wrong last night in Denmark. Keith was on the top of his game and played brilliantly, smiling widely throughout the show. Here's the setlist from Parken,Copenhagen, Denmark: Start Me Up-You Got Me Rocking- Rough Justice- Rocks Off- Dead Flowers-Ruby Tuesday- Can't You Hear Me Knocking- I'll Go Crazy-Tumbling Dice-Introductions-You Got The Silver (KR)-I Wanna Hold You (KR)- Miss You (to B-stage)- It's Only Rock'n Roll (B-stage)-Satisfaction (B-stage)-Honky Tonk Women (to main stage)-Sympathy For The Devil-Paint It Black-Jumping Jack Flash-Brown Sugar (encore). Stay tuned for photos.
---
August 3, 2007
On Sunday August 5 at 3:50pm ET Blue Lena will be interviewed live on the radio for the Roy Green Show in Canada. The topic is "Keith Richards' Autobiography". Tune in at www.940news.com or if you're in Canada, check your local radio listings.
---
August 2, 2007
STONES IN FINLAND
Setlist:Start Me Up- Let's Spend the Night Together- Rough Justice- All Down the Line- She's So Cold- Love is Strong- Sweet Virginia- Can't You Hear Me Knocking- Tumbling Dice- You Got the Silver- Wanna Hold You- Miss You- It's Only Rock and Roll- Satisfaction- Honky Tonk Women- Sympathy For the Devil- Paint it Black- Jumping Jack Flash- Brown Sugar
---
July 31, 2007

Keef Rocks Out for Russia

Setlist for St. Petersburg, Russia: Start Me Up - You Got Me Rocking - Rough Justice - Bitch - She's So Cold - You Can't Always Get What You Want - Midnight Rambler - I'll Go Crazy - Tumbling Dice - Intros - You Got The Silver - Little T & A - Miss You -It's Only Rock'n' Roll - Satisfaction - Honky Tonk Women - Sympathy For The Devil - Paint it Black - Jumpin' Jack Flash - Brown Sugar (encore)

Next show Helsinki, Finland Aug. 1

MOJO Magazine – Rolling Stones Anniversary Special! Swagger, sorrow, evil, lust and violence…45 years after their conception the Stones still have it!

This month's edition of MOJO follows the band that defined the very essence of the rock'n'roll as they limber up for a massive UK tour.
Inculding… The 50 greatest Stones tracks of all time, all picked and praised by a panel of genuflecting muso talent. Keith Richards Exclusive – every question you were afraid to ask and more! The story of Andy Johns – Roberto Greenfield speaks to Stone's supreme producer/engineer about the highs and lows of high-tar Stonesworld.
PLUS, 80s rock monsters Def Leppard explain how they survived their drummer losing an arm, and Stevie Nicks reveals her biggest regrets…
---
July 25, 2007
Stones Play Poland During Day of Mourning
The Rolling Stones went ahead with a concert in Poland despite three days of national mourning for 26 pilgrims killed in a coach accident in France. The group said it would donate money from ticket sales from its concert in Warsaw to the families of those who died in the coach crash in France. But the Caritas charity said it wanted nothing to do with the band's offer because the concert was taking place during a period of national mourning for the dead which ends at midnight tonight. Anna Tanska of the Viva Art agency said: "Caritas has reached the conclusion that since the money raised by the Rolling Stones will be 'dirty money' then they won't take it for the families of the victims. "They just prefer it if they don't have anything to do with it and the families don't get the money. "What good is it if we just fold our arms and do nothing? The victims' families have to live off something. People from show business can help them to some extent, by doing what they do best." She added that they hoped to persuade another charity, the Polsat Foundation, to collect the money although they did not know yet how much it would be.
Setlist: 1. Start Me Up 2. You Got Me Rocking 3. Rough Justice 4. Ain't Too Proud to Beg 5. Love Is Strong 6. You Cant Always Get What You Want 7. Midnight Rambler 8. I'll Go Crazy 9. Tumbling Dice 10. You Got the Silver 11. Wanna Hold You 12. Miss You 13. IORR 14 Get Off My Cloud 15 Honky Tonk Women 16. Paint It Black 17. Jumpin' Jack Flash 18. Brown Sugar 19. Satisfaction
---
July 16, 2007
KEITH SHAVES THE 'STACHE and STONES PLANET'S SUMMER ISSUE IS RELEASED!
Keith was sans moustache for the show in Belgrade, Serbia on Saturday night and he looked great! Many fans were in agreement that the moustache made Keith look older (no jokes please), and we much prefer him without it, unless it's for a pirate movie (wink).
SETLIST: Start Me Up - You Got Me Rocking - Rough Justice - All Down The Line - Heartbreaker - You Can't Always Get What You Want - Midnight Rambler - I'll Go Crazy - Tumbling Dice - Intros - You Got The Silver - Wanna Hold You - Miss You - It's Only Rock'n'Roll - Satisfaction - Honky Tonk Women - Sympathy For The Devil - Paint It Black - Jumpin' Jack Flash - Brown Sugar (encore)
Don't forget...STONES PLANET #23 SUMMER 2007 is hot off the press and was mailed to members last Thursday. Get your copy HERE!
---
July 3, 2007
Happy July 4th!
The Stones are on a bit of a tour break after being in Spain and Portugal since June 19 and playing 5 shows there. On July 6 they start again in Rome, Italy. My friend Massimo Bonanno will be reporting back to me from that show.
Also let us not forget that July 3 is the 38th anniversary of the death of Brian Jones. He was found dead in his swimming pool at Cotchford Farm on July 3, 1969.
---
June 30, 2007
2 Die Dismantling Rolling Stones' Stage
The Associated Press Friday, June 29, 2007; 2:06 PM
MADRID, Spain -- Two workers dismantling a Rolling Stones' stage at a stadium in Madrid fell to their deaths from a metal scaffold on Friday, officials said.
Two other Spanish workers were injured in the accident at the Vicente Calderon stadium, one critically. Police said three of the workers fell about 30 feet from the scaffold, and landed on the fourth worker.
The Rolling Stones, currently on the European leg of their A Bigger Bang world tour, performed in the Vicente Calderon soccer stadium in the Spanish capital Thursday night. They are due to play in the soutern town of El Eijido this weekend.
The dead workers were indentified as Benno Goldewijk, 44, of the Netherlands, and Alfredo Pecina Matias, 38, of Spain, said Javier Ayuso, a spokesman for Madrid's emergency rescue service said.
---
June 21, 2007
BLUE LENA'S STONES PHOTOS FEATURED IN NEW BOOK BY MASSIMO BONANNO
AND
THE STONES WOW CROWD IN BARCELONA LAST NIGHT
THE ROLLING STONES AFTERMATH
This deeply researched 430-page book offers a staggering and complete new view to the whole career of the Rolling Stones, from the very early days at dawn of the 60's, when the future band members as many teenagers of that time, found themselves caught by the new, sudden wind blowing from America called rock'n'roll, to the current days corporate mega-tours across the world. In the interim the 'greatest rock'n'roll band in the world' not only changed the music scene, but also the world and our society. After an introduction based on the latest band's global performances at the Super Bowl in America and the free concert in Rio de Janeiro, the opening part describes how the band was formed, from the hard early days striving to get gigs, to the arrival of Andrew Oldham, the young, flamboyant PR-man who became their shrewd manager and producer. The work is both new and unique since it covers the Stones'career album by album, or CD by CD as we say these days; from their first album released in 1964 to the last one, "A Bigger Bang" issued in 2005. With exclusive photos by Tamara Guo, the book is packed with informations available nowhere else: for each album the author provides dates of the recording sessions, the studios, the producers, the sound engineers, the tracks, also the unreleased ones, the musicians other than the Rolling Stones themselves and how the records did both in the British and American charts. Tours accompanying the records releases are also fully and deeply covered, each one with dates, venues, song list, and supporting acts. Touring became corporate early in the 80's and rock'n'roll lost its innocence, yet the Rolling Stones mean not only music, but also busts, glamour, tragedies, gossips and the alike and everything is set in the work, so that each album or CD focalises over a particular year or years in a journey into the past and into the music that made the soundtrack of our lives. Although over the years several books have been published on the 'greatest rock'n'roll band in the world,' none of them comes close to "Aftermath".
ABOUT AUTHOR
Massimo Bonanno is the author of "The Rolling Stones Chronicle", published by Plexus in UK, Henry Holt in the US, Ramsay in France, Shinko Music in Japan and Angus & Robertson in Australia. He worked with the Rolling Stones official web site to set up the band's archives, as Vice-President of the Brian Jones Fan Club based in Cheltenham, England he was instrumental in raising money to finance a bronze bust for the never forgotten musician. He writes for several fanzines and music sites on both sides of the Atlantic. With Lulu.com he also published the historic rock and roll thriller "Feeling Old Feelings", a novel that lasts more than three decades (from early 60 to early 90's) set in the rock and media worlds.
ABOUT LULU
Founded in 2002, Lulu is the fastest growing print-on-demand marketplace for digital do it yourselfers. ORDER THE BOOK HERE
STONES PLAY BARCELONA SPAIN!
I lived in Barcelona when I was in college, it is one of my favorite cities in the world. Last summer I planned to see the Stones there, until Keith fell on his head. So, sadly, this time I will miss Barcelona and may never get to see my favorite band play there, but by all accounts last night's show was a great one. Keith is getting rave reviews for You Got The Silver.
Set list: Start Me Up - Let's Spend The Night Together - Rough Justice - Rocks Off - Ain't Too Proud To Beg - Streets Of Love - Midnight Rambler - I'll Go Crazy - Tumbling Dice - Intros - You Got The Silver - I Wanna Hold You - Miss You - Respectable - It's Only Rock'n'Roll - Honky Tonk Women - Sympathy For The Devil - Jumpin' Jack Flash - Brown Sugar - Satisfaction (encore)
---
June 17, 2007
STONES INVADE PARIS-STADE DE FRANCE LAST NIGHT
Keef in Paris last night
SETLIST:Start Me Up - Let's Spend The Night Together - Rough Justice - All Down The Line - She Was Hot - Waiting On A Friend - Can't You Hear Me Knocking -- I'll Go Crazy - Tumbling Dice - Intros - Happy - Wanna Hold You - It's Only Rock'n'Roll - It's All Over Now - You Got Me Rocking - Honky Tonk Women - Sympathy For The Devil - Satisfaction - Brown Sugar - Jumpin Jack Flash (encore)
---
June 15, 2007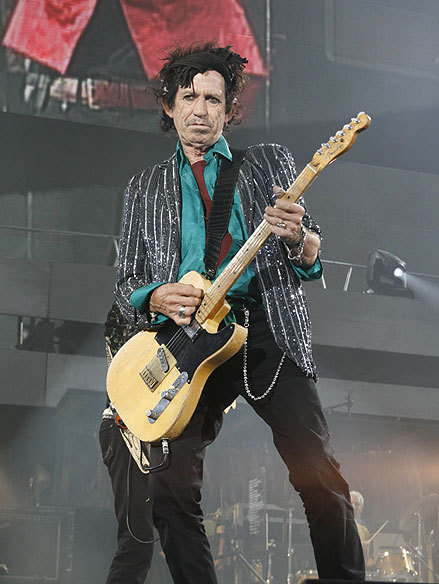 Keith in Frankfurt
The Stones played Frankfurt, Germany on Wednesday June 13 and demomstrated a change in the setlist. Many videos are circulating on You Tube from this gig.
SETLIST:Start Me Up - You Got Me Rocking - Rough Justice - Bitch - Monkey Man - Sweet Virginia - Midnight Rambler - I'll Go Crazy - Tumbling Dice - Intros - Wanna Hold You - Before They Make Me Run - It's Only Rock'n'Roll - Respectable - Satisfaction - Honky Tonk Women - Sympathy For The Devil - Paint It Black - Brown Sugar - Jumpin' Jack Flash (encore)
Next gig is Paris tomorrow evening.
---
June 5, 2007
STONES OPEN EUROPEAN TOUR IN BELGIUM TONIGHT!
SETLIST: Start Me Up - Shattered - Rough Justice - Rocks Off - Heartbreaker - Some Girls - Waiting On A Friend - Can't You Hear Me Knockin' - Tumblin' Dice - I'll Go Crazy - Intros - I Just Wanna Hold You - Slipping Away - It's Only Rock'n'Roll - It's All Over Now - Satisfaction - Honky Tonk Woman - Paint It Black - Jumping Jack Flash - Brown Sugar - Sympathy For The Devil
The 'A Bigger Bang' tour starts in Werchter, Belgium and will play more than 30 shows across Europe. On Jun 23 they will play in the Basque town of Donostia-San Sebastian. 'A Bigger Bang' in 2006 became the best-selling tour in concert history
As the Rolling Stones kick off their summer tour next week ( June 5) , they took time out to rehearse their material in front of AP Entertainment. The Stones played 5 songs : "Rough Justice", "I'll Go Crazy", "Monkey Man", "Tumbling Dice" and "Rocks Off".
The 'A Bigger Bang' tour starts in Werchter, Belgium and will play more than 30 shows across Europe, including in places where even these touring veterans haven't visited, like St Petersburg, Serbia and Ukraine.
"Lots of new territories, every show is different," notes Mick Jagger," and Europe's a very diverse place ... and so every time you get to the next city it tends to be a different language and different culture, different this, that, so for me touring Europe in the summer is a really fun event."
" It's good for Mick to try out his languages," Ronnie Wood adds.
As well as Eastern Europe, Mick Jagger, Ronnie Wood, Keith Richards and Charlie Watts will play the UK, Ireland, Holland, Belgium, Germany, France, Spain, Switzerland and Scandinavia. The band say they're fit - after some concern from fans when some 2006 dates were cancelled on the tour. This was due to Keith Richards falling out of a tree and needing brain surgery.
'A Bigger Bang' in 2006 became the best-selling tour in concert history and again put the Stones at the top of the US musical rich list, making the band more than 100 million US Dollars.
Despite their wealth, their age, and the occasional monotony of being on the road, Mick Jagger wants to keep going and doesn't see touring as a job:
" It's more like a strange pastime, " he told AP Entertainment. " in a funny way it's very odd because you live for the next show which could be the next day, all the time is you're building up and in that way it's akin to sports because you're working up - you practice, you run about, you play the song, you rehearse, but the actual thing's only two hours and then it's over."
Keith Richards, who recently got a cameo as Captain Jack's ( Johnny Depp) father in ' Pirates of the Caribbean 3', is glad they still appeal, more than 40 years after forming:
" Darling we expect them," he quipped. " But at the same time you don't take it for granted and I don't know quite what it is.. I don't know Charlie and I quite see the attraction but it must be something to do with the music ..I'll do it my wheelchair. It's easy for him, " he adds, referring to Charlie. " He's sitting down already!"
After so many years touring, original Stones fans are now bringing their children and grandchildren to gigs - which amuses Keith Richards.
"It's quite amazing to see people with their grandchildren, but at the same time very heart warming, and a few years ago .. I've seen 12 year old guitar freaks down the front who are now in bands and working ..It's kind of an inspirational thing in a way to pass it on. All we do a musician or a minstrel the best thing they can have on their tomb stone is they passed it on."
'A Bigger Bang ' 2007 will play the following dates in Europe:
05 Jun 2007 Werchter , Belgium
08 Jun 2007 Nijmegen, Netherlands
10 Jun 2007 Newport, UK Isle of Wight Festival
13 Jun 2007 Frankfurt Germany
16 Jun 2007 Paris France
18 Jun 2007 Lyon France
21 Jun 2007 Barcelona Spain
23 Jun 2007 San Sebastian Basque Country 25 Jun 2007 Lisbon Portugal
28 Jun 2007 Madrid Spain
30 Jun 2007 El Ejido Spain
06 Jul 2007 Rome Italy
09 Jul 2007 Budva Montenegro
14 Jul 2007 Belgrade Serbia
17 Jul 2007 Bucharest Romania
20 Jul 2007 Budapest Hungary
22 Jul 2007 Brno Czech Republic
25 Jul 2007 Warsaw Poland
01 Aug 2007 Helsinki Finland
03 Aug 2007 Gothenburg Sweden
05 Aug 2007 Copenhagen Denmark
08 Aug 2007 Oslo Norway
11 Aug 2007 Lausanne Switzerland
13 Aug 2007 Dusseldorf Germany
15 Aug 2007 Hamburg Germany
18 Aug 2007 Dublin Ireland
21 Aug 2007 London UK
23 Aug 2007 London UK
26 Aug 2007 London UK

Stay tuned because June 12 is the release date for 4 dvd boxed set "The Biggest Bang" sold at Best Buy in the USA. Also, Sept. 21 is the release date of the Stones documentary film "Shine A Light" coming to a theater near you! It's going to be a Rolling Stones Summer!!!!

A belated HAPPY BIRTHDAY to Ronnie and Charlie!
---
May 28, 2007
REHEARSALS BEGIN IN BRUSSELS
The Rolling Stones have begun rehearsing for their continuation of the A Bigger Bang Tour which begins in Belgium on June 5. Some band members arrived Friday afternoon, with Mick and Keith arriving Friday evening. Rehearsals began on Saturday, with the Stones running through such tunes as Bitch, Undercover, Shattered, Respectable, Oh No Not You Again, Monkey Man, All Down The Line, Love Is Strong and Loving Cup and Keith covering Thief In The Night, Happy, Thru & Thru, You Got The Silver, Wanna Hold You, Infamy, Slipping Away and The Worst.
All the boys are looking happy & healthy and seem to be in good spirits.
Keith definitely rehearsed the bulk of his tunes...but for my wish list for things he hasn't rehearsed, please play "We Had It All" and once again "The Nearness of You" or even "Learning The Game".

Keith Arrives at the Rehearsal Studio in Brussels, Belgium on Saturday May 26th (Photo from IORR.org)
---
May 26, 2007
Keith Makes His Big Screen Debut as Pirate Captain Teague Sparrow in POTC:At World's End
Keith's 2 minutes in Pirates of the Caribbean: At World's End are the 2 best minutes of the movie, and well worth the 1 hour and 45 minutes until the segment appears. He does make one more 2 second curtain call near the end of the film as well. The movie itself, while fun, is rather long and drawn out at almost 3 hours in length. The film is all about special effects and while it does wrap up some of the loose ends from Pirates 2, it also leaves the ending open enough that if they wanted to make a Pirates 4, they could. Make sure you have seen Pirates 1 & 2 before seeing 3 or you will be totally lost. But, seeing the film just for Keith's bit can be well worth it! He is, of course, and always will be, the ultimate pirate. And this proves it!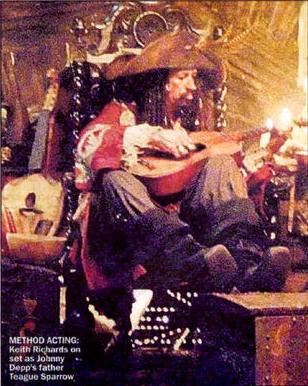 ---
May 18, 2007
Keith & Johnny Depp are interviewed and featured on the cover the latest Rolling Stone Magazine due June 1. Pirates of the Caribbean 3:At World's End is released next Friday May 25! Click here for interview preview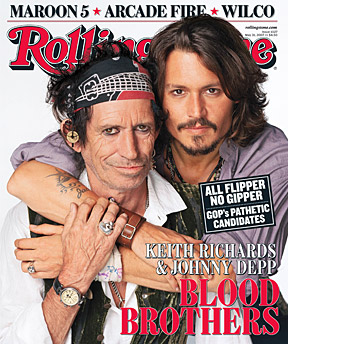 ---
May 6, 2007
Today's Keith News
On May sixth, 1965, guitarist Keith Richards of the Rolling Stones came up with the riff that formed the foundation of the song "(I Can't Get No) Satisfaction." He was staying at a motel in Clearwater, Florida, at the time.
Also reported today, is that Keith will attend the Pirates of the Caribbean: At World's End movie premiere in Anaheim, CA at Disneyland on May 19th. The premiere benefits the Make A Wish Foundation.
And, Keith Richards is reportedly penning his autobiography with an old friend and author James Fox.
The 63-year-old, who famously said that he snorted his dad's ashes with cocaine, is expected to discuss his drug and alcohol addiction in his literary venture.The autobiography is expected to be a frank memoir, in which Richards is expected to give out honest details of his wild life.
A source said that the combination of Richards and the 'White Mischief' author is a 'dream team'."Keith is working on the book at the moment with his old friend, best selling White Mischief author James Fox... It's a dream team," Contactmusic quoted the source, as saying.
---
May 2, 2007
Doris Richards Funeral Held in Sussex Yesterday
Rolling Stones guitarist Keith Richards said his final goodbye to his mother Doris Richards - who died aged 91 on April 21 - at Sussex's Chichester crematorium, yesterday.
Keith, who kept a bedside vigil until his beloved mum lost her battle with cancer last month, was comforted by family and fellow bandmate Ronnie Wood during the service.
Doris separated from Keith's father Bert - who passed away in 2002 aged 84 - in 1962.
Before her death she had been living with the rocker's stepfather William in Kent. Doris fell ill around the same time Keith, 63, underwent brain surgery after falling out of a tree in Fiji last year.
Doris was responsible for buying her son his first guitar on his 15th birthday, setting him on the path to rock 'n' roll success.
Her father, Gus Dupree, toured the UK as a jazz musician and gave grandson Keith his earliest guitar lessons.

Angela Richards and her Dad at Doris Richards funeral
---
April 23, 2007
My Deepest Sympathy to Keith & His Family
A member of the Stones organization let me know on Sunday afternoon that Keith's beloved Mother, Doris Richards, passed away on Saturday at the age of 91. Doris was diagnosed with cancer less than a year ago and had not been doing well. Keith had been reportedly staying by her side at a hospital in the UK. My deepest sympathy to the entire Richards family at this most difficult time.
I had the pleasure of meeting Doris Richards in London in 1999 and she was a sweet, vibrant lady. I recall saying "You're Keith's Mom!" and she said "Yes, and this is his auntie & his cousin and his other cousin" and proceeded to introduce me. Later I said "we love Keith" and she said "We do too dear, we do too".
RIP Doris Richards
Doris Richards & Keith's wife Patti Hansen in 1998 at Keith's daughter Angela's wedding
---
April 22, 2007
Last Friday and Saturday evening, a few of the Stones backing band members stopped over in Pittsburgh, PA. I was fortunate enough to be on the list for both shows (thanks Tim & Bernard!) and Tim Ries and his Rolling Stones Project played 2 stellar jazz shows. This was my 6th & 7th time seeing this band, and each time they have debuted some new & interesting material. I will be reviewing these shows in the next Stones Planet Fanzine, along with my exclusive interview with Bernard and a contest to win's Bernard's solo cd. Stay tuned. For now, here's the local review from the Post-Gazette and a photo of me and the boys after the gig.
Music Review: Sax player swings the Stones By Rick Nowlin, Pittsburgh Post-Gazette
Ever wonder how Rolling Stones songs would sound in a jazz context?
Thanks to Stones backup saxophonist Tim Ries, who switched between tenor and soprano, the audience at the Manchester Craftsmen's Guild got a chance to find out Saturday night.
Truth be told, they sounded pretty good -- not a clunker among the repertoire -- and the band was first-rate as well.
Perhaps not surprisingly, the "Rolling Stones Project" opened with the classic "Satisfaction," Ries starting out on piano and later playing the theme on tenor but -- as jazz arrangements often do -- substituting chords just to spice things up a bit. "Gimme Shelter" contained all kinds of colors, with a rubato, a cappella opening from bassist Thomas Bramerie and a languid solo from trombonist and fellow Stones band member Michael Davis, who throughout the evening displayed about as much range on his horn as Ries's tenor.
Ries and company switched up "Angie" into Indian-influenced 15/8 meter -- that version will be included on an upcoming fall release of Ries-inspired world-beat arrangements of Stones music -- that slightly recalled Spyro Gyra and allowed drummer Clarence Penn to stretch out a bit.
Guest vocalist Bernard Fowler nearly stole the show with dramatic renditions of several songs.
Arguably the best of them was a swing, then shuffle rendition of "Honky Tonk Woman," with Fowler actually harking back to the Stones' confessed roots in Chicago blues. Guitarist Ben Monder contributed an amazing solo comprising almost exclusively chords.
Fowler also carried "Ruby Tuesday," accompanied only by Monder and Ries, on soprano; and "Wild Horses."
I especially enjoyed the heretofore obscure, Keith Richards-penned, midtempo "Baby, Break It Down," delivered by Fowler and with Ries adding background vocals.
The closing number was a funk-flavored untitled Ries original that nevertheless recalled the Crusaders, what with the frontline of Ries and Davis at one point trading off toward the end.
The encore offered a finger-style classical opening courtesy of Monder and became "Paint It Black" in 7/8 meter.
My only complaint was the overall sound -- it seemed that Penn overpowered everyone else, especially Monder, at times.
---
April 4, 2007
No Keith Didn't Really Snort His Dad!
Did Keith Richards Really Snort His Dad's Ashes? No — It Was A Joke! Comments made in magazine interview were only 'said in jest,' manager tells MTV News.
By Kurt Loder
Maybe you saw that Keith Richards item that started popping up all over the place on Tuesday (April 3) — the one about how he'd admitted to snorting the ashes of his late father after his body had been cremated? Great story, right? And yet, like so much in the world of celebrity journalism, totally untrue.
In case you missed it, this little yarn first appeared in the pages of London's notoriously unreliable New Musical Express. The paper quoted the Rolling Stones guitarist as saying, "The strangest thing I've tried to snort? My father. I snorted my father. He was cremated and I couldn't resist grinding him up with a little bit of blow. My dad wouldn't have cared. ... It went down pretty well, and I'm still alive."
This wildly dubious quote proved irresistible to newspapers, wire services and TV and online outlets on both sides of the Atlantic, from The Associated Press to Forbes, The Drudge Report, Breitbart and E! Online. In fact, it was such a great story that nobody bothered trying to confirm it with a Richards representative — why spoil the fun with facts?
In a buzz-killing mood, though, we decided to check with Richards' longtime manager, Jane Rose. We asked her about the dad-snorting quotes in the NME interview. She responded with an e-mail:
"Said in jest," she explained. "Can't believe anyone took [it] seriously."
---
April 1, 2007
See photos of the 8th ANNUAL BOTTOM LINE FAN GATHERING IN WASHINGTON, DC!
---
March 24, 2007
ROLLING STONES A BIGGER BANG EUROPEAN TOUR DATES
Jun 5 - Werchter, BEL - Werchter Park
Jun 8 - Nijmegen, NET - Goffert Park
Jun 10 - Isle Of Wight, UK - Isle Of Wight Festival
Jun 13 - Frankfurt, GER - Commerzbank
Jun 16 - Paris, FRA - Stade de France
Jun 18 - Lyon, FRA - Stade Gerland
Jun 21 - Barcelona, SPA - Olympic Stadium
Jun 23 - San Sebastian, SPA - Estadio de Anoeta
Jun 25 - Lisbon, POR - Alvalade Stadium
Jun 28 - Madrid, SPA - Estadio Vicente Calderon
Jun 30 - Almeria, SPA - Estadio Santo Domingo
Jul 6 - Rome, ITA - Olimpico Stadium
Jul 9 - Budva, MNT - Jaze Beach
Jul 14 - Belgrade, SER - Hippodrome
Jul 17 - Bucharest, ROM - National Lia Manoliu
Jul 20 - Budapest, HUN - Puskas Ferenc Stad
Jul 22 - Brno, CZE - Outdoor Exhibition Centre
Jul 25 - Kiev, RUS - Olympic Stadium
Jul 28 - Saint Petersburg, RUS - Palace Square
Aug 1 - Helsinki, FIN - Olympic Stad
Aug 3 - Goteborg, SWE - Ullevi Stad
Aug 5 - Copenhagen, DEN - Parken Stad
Aug 8 - Oslo, NOR - Vallehovin Stad
Aug 13 - Dusseldorf, GER - LTU Arena
Aug 15 - Hamburg, GER - AOL Arena
Aug 18 - Meath, IRE - Slane Castle
Aug 21 - London, ENG - O2 Arena
---
March 21, 2007
STONES ANNOUNCE EUROPEAN TOUR LIVE THURSDAY NOON EST!
LOS ANGELES (Reuters) - Mick Jagger will take to the Web on Thursday to announce details of the Rolling Stones' summer tour of Europe, a spokeswoman said.
Jagger, who will be in London, will reveal the itinerary and take questions from European media outlets at 4 p.m. GMT (noon EDT). The webcast can also be viewed by the public on RS.COM.
It was originally envisaged that the whole band would talk about the tour during a traditional news conference at a London hotel, but U.S.-based guitarist Keith Richards was unable to make it, according to a source close to the band.
The trek is expected to include cities that were pulled from the itinerary of last year's tour after Richards hurt his head while on vacation in Fiji. Additionally, two Spain shows were scrapped at the last minute when Jagger came down with a sore throat.
According to the well-connected fan web site It's Only Rock'n Roll (http://www.iorr.org), the tour will likely include a June 10 stop at Britain's Isle of Wight festival, while shows are rumored for such cities as Athens, Barcelona, Belgrade, Brussels, Bucharest, Chorzow, Copenhagen, Duesseldorf, Gothenburg, Helsinki, Lisbon, Lyon, Madrid, Nijmegen, Oslo, Paris, Rome, San Sebastian, St. Petersburg, and Zagreb.
---
March 16, 2007
KEITH INDUCTS RONETTES INTO ROCK HALL & SPORTS NEW MOUSTACHE!
Keith Richards is a wonder of modern medicine, and he knows it. Keith Richards: wonder of medical science Richards seemed relaxed about his close brush with death
Speaking at the induction of R&B girl group The Ronettes into the Rock and Roll Hall of Fame, the dreadlocked, chain-smoking rock dinosaur admitted he owed his life to advances in the medical industry.
"There have been great strides made in medical science lately," he said.
"That's why I am able to say to you, 'Good evening ladies and gentlemen, welcome to the Rock and Roll Hall of Fame'."
Last year the guitarist fell out of a palm tree in Fiji and had to have an operation on his brain. advertisement
Looking increasingly like Captain Jack Sparrow - the Pirates of the Caribbean character Johnny Depp based on the Rolling Stone - Richards went on the praise The Ronettes.
"They could sing all their way right through a wall of sound," he said of the group, which features Ronnie Spector, Estelle Bennett and Nedra Talley.
"They didn't need anything. They touched my heart right there and then and they touch it still."
The ceremony took place at the Waldorf Astoria Hotel in New York.
---
March 3, 2007
KEITH TO PRESENT AT ROCK AND ROLL HALL OF FAME INDUCTIONS
Keith Richards will be a presenter at the awards and will be inducting the Ronettes into the Rock and Roll Hall of Fame.
The inductions are set to take place at a March 12 ceremony at the Waldorf-Astoria Hotel in New York, as previously announced.
Ahmet Ertegun, founder of Atlantic Records, will also be recognised, posthumously, following his death at the end of last year.
The Rock and Roll Hall of Fame is located in Cleveland, Ohio and began annually inducting artists and influential members of the music community in 1986.
---
February 10, 2007
HAPPY VALENTINE'S DAY FROM BLUE LENA & THE KEITH SHRINE!
---
January 15, 2007
Check out the new & updated Keith Art Page 2007 HERE!
---
January 1, 2007
HAPPY NEW STONES YEAR 2007!!!!!!!!!!!!!!!!!! So far we have a European Tour and Keith in Pirates of the Caribbean:World's End to look forward to in the new year. Since we haven't heard much news from Keith since the tour ended in late November, here's a new KEITH PHOTO PAGE to start your New Year off right!

---
View 2006 News Page HERE

or RETURN TO THE SHRINE HOMEPAGE HERE