Preview
Stalingrad
- Turning Point of the War in Europe
- Soviets stop the Germans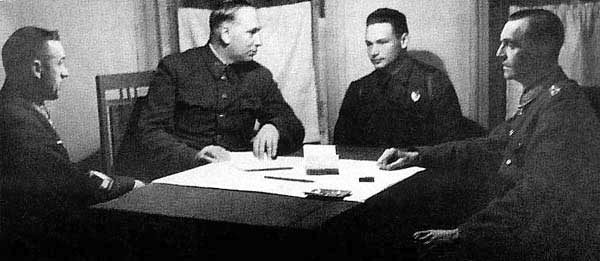 German General-Feldmarshal Friedrich Paulus, commander of the German Army at Stalingrad, on the right, surrenders to Soviet forces in Stalingrad on January 31, 1943
The Soviets turned back the Germans at Stalingrad in January 1943.
In mid-1943, the Soviets launched a wide advance across a broad north-south front that drove the Germans back into Germany in April 1945.
The Allies would invade the continent first from the south.
Chronology:
- British victory over the Axis in Egypt, October 23 - November 11, 1942
- Allies land in French North Africa, November 8 - 16, 1942
- Germans land in Tunisia, November 9 - 17, 1942
- Germans occupy Vichy France, November 10 - 11, 1942
Description of the North African campaign:
- Following Germany's defeat of France in June 1940, the British scuttled the French Mediterranean fleet at Mers-el-Kebir to keep it from the Germans
- the Italians declared war against the British and the French and launched an attack from Libya against the British in Egypt, but the British pushed them back into Tunisia;
- the Germans came to the aid of the Italians and pushed the British back into Egypt, but they were eventually stopped in Egypt at El-Alamein, and then forced back into Tunisia.
- As the British pushed the Germans back into Tunisia in 1942, the Americans disembarked in North Africa, with landings in Morocco and Algeria;
- the Allies then defeated the Axis in Tunisia, 1943
This page # 26, has been moved for expansion. Click here to see the page.